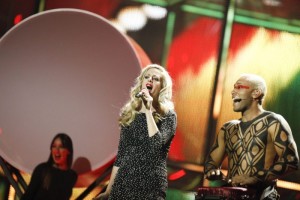 Time for Quero Ser Tua, the lively song from Portugal, to get its second rehearsal. The entry's singer, Suzy, was a hit with the fans when she performed at the Euro Fan Café last Tuesday. It is rumoured that her luggage for Copenhagen got stolen, but, hopefully, Suzy won't let that affect the enthusiasm with which she normally performs her song.
The performance starts with the two large white drums on stage being brightly lit against a black backdrop. Then the camera cuts to Suzy who, surrounded by her backing vocalists, smiles to the camera before she turns towards the audience and walks down the stage with her two backing vocalists on either side. The singer is wearing a short black dress with what appears to be white crystals. The background projection is made up of a consistent image of moving abstract shapes in red, green and gold. There are also black, red and green geometric patterns formed on the stage floor display. The concept behind the fairly uncomplicated staging must be to convey a sense of carnival fun and this is indeed achieved to an extent. Suzy dances around a drummer with black body paint on his torso and down his arms with whom she interacts around the stage for a large part of the choreography.
As far as the vocal performance is concerned, there were a couple of off-pitch notes, but that must be down to stress, as Suzy proved during informal performances this week that she can sing her song impeccably and with real gusto. People generally seem to like the Portuguese entry and a few of them start moving to its rhythm in the press centre as well as inside the hall. The presentation finishes with the much used effect of the stage being flooded in bright white light, crossing white spotlights and two red flags being waved on either side of Suzi, before the backdrop switches back to the Portuguese national colours of red and green for a smiley shot of the singer with her long hair waving.