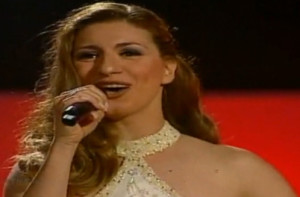 Former representative, Pınar Ayhan is in preparation for her debut album that will be entitled 'Duyuyor musun?' after twelve years of her participation in Eurovision. The album contains nine tracks and the first video promo was recorded to the new version of her participating song Yorgunum Anla.
Pınar Ayhan had given life to a baby only 28 days before the start of the 2000 Eurovision Song Contest. Noone, including herself, could ever know that Pınar would be bringing Turkey the 3rd most succesfull result with 10th place, up to that time. But since then, she has been disappearing from music arenas as she's just releasing her debut album this summer.
Considering her hard preparation to the Eurovision Song Contest – as she was pregnant and gave a life to a baby just 28 days before the contest – Pınar Ayhan decided to give her efforts to her children but she didn't give up working at the same time as she presented some TV shows in this period.
With the opening of new education channel from Turkish broadcaster, TRT Okul, Pınar started to present a programme 'Daily Guide' and then she decided to go after her dreams. The album 'Duyuyor musun?' (meaning in English, Do you hear?) came out after a long preparation process which includes nine songs. The album is released on Baha Müzik Company.
Meanwhile, the first video promo was recorded to the new version of the song Yorgunum Anla, the title track of the album. It was also placed 10th at the Eurovision Song Contest in 2000. The music and lyrics belong to the duo, Pınar Ayhan and Orkun Yazgan whilst the video was directed by Kemal Başbuğ.
Below you can watch the first video promo of Yorgunum Anla or you can experience again Pınar's performance at the 2000 Eurovision Song Contest: