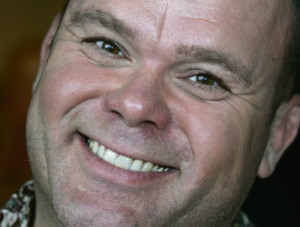 Famous Dutch TV host, singer and actor Paul de Leeuw will celebrate his 25 years in show business with releasing a DVD box and hosting a 12-hour long live TV show. He is known for flirting with Sakis Rouvas and an uncountable number of Eurovision Song Contest covers.
The 12 hour long TV program will go live on air on the 29th of November starting at 20:30 in the evening going on all night. The program will feature various famous guests who have some how played a part in his 25-year long career.
Paul de Leeuw is among Eurovision fans mainly known for giving the Dutch points in the 2006 Eurovision Song Contest where he flirted with host Sakis Rouvas giving him his phone number live in the program. It was live in two programmes as De Leeuw was hosting a TV program with a live audience watching the Eurovision Song Contest. In that program Paul de Leeuw then announced the Dutch points. Quite noticeable was the fact that his programme had more viewers than the Eurovision Song Contest in itself that evening in the Netherlands.
In February 2009 the film called Spion van Oranje will be released. It is a film that also features Gerard Joling. Whether it was that connection to Gerard Joling that made him warn Gordon the other day we don't know, but fact was that he had Gordon as a guest in his TV program Mooi! Weer de Leeuw: The Day After, the day after Gerard Joling had announced that he would leave De Toppers (The Dutch representative for the 2009 Eurovision Song Contest). Paul de Leeuw warned Gordon about what he says. He directly told him not to speak too negative, and in particular not about Gerard Joling and then he gave him the advice to count to ten before he speaks!
Below you can first see the video to one of his biggest hits Vlieg met me mee (naar de regenboog) (Fly with me (To the rainbow)) where he pretends he is participating at the Eurovision Song Contest. In the second video you can hear his cover version of the Swedish entry from 1990, Som En Vind by Edin-Ådahl. The Dutch version is called Storm En Wind.
And finally you can in the third video see the clip where he gives the Dutch points at the 2006 Eurovision Song Contest and flirts with Sakis Rouvas.