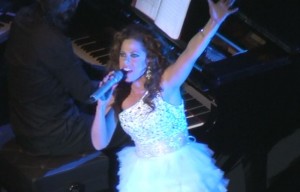 Pastora Soler is one of the best female vocals on the Spanish music scene, which she demonstrated at a concert at the Arteria Coliseum Theatre in Madrid Monday night. EuroVisionary attended the concert and we have, exclusive for our readers, some videos including the premiere of her Eurovision entry.
The Madrid audience did not want to miss the chance of listen to Pastora Soler live and tickets were sold-out days in advance. She clearly has loyal admirers in Madrid and no doubt many people are genuinely affected by her singing and her glamorous personality. The concert took place at the Arteria Coliseum Theatre and it is part of her tour called Una Mujer Como Yo (A Woman Like Me) where she shows her versatility singing a great repertoire of ballads, pop songs and copla.
The two-hour concert started with the song Hoy Me Despido De Ti from her latest album. Pastora wore a beautiful white dress well known for her fans because it is the same dress that she wears in the picture of the cover of the album. She was accompanied on stage during the whole show by a pianist, a bass player, a drummer, a guitar player and a backing singer all of them dressed in black.
Pastora's concert Monday night was a mixture of her eight albums and her ardent fans cheered her during every song. During the first part of the show the audience enjoyed the hits of her career as En Mi Soledad, Sólo Tú, Haz Lo Que Quieras De Mí, Dámelo Ya or Bendita Locura. She also performed Tu Vida Es Tu Vida which was one of the three candidate songs in the running to represent Spain at the 2012 Eurovision Song Contest.
Halfway through the concert the interval act was a 'cajón' performance (a wooden box drum played with the hands) and this led to the flamenco's part of the concert. Pastora appeared on stage dressed in a stunning transparent long dress with black embroidery. She amazed her faithful audience with a powerful voice singing some copla beats like the popular songs Y Sin Embargo Te Quiero or A Tu Vera among others.
Near the end of the concert came the moment that many Eurovision fans were expecting and she sang, for the first time live, Quédate Conmigo, the song that she will perform in the final of the forthcoming Eurovision Song Contest in Baku. She received a long standing ovation after her performance.
Below you can watch EuroVisionary's videos from the live performance of Pastora Soler in Madrid singing  Quédate Conmigo and Tu Vida Es Tu Vida.