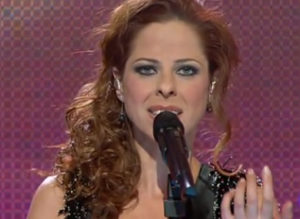 Spanish hopes have arrived in the land of fire with the aim of lighting up Europe with the strong ballad that Pastora Soler will perform. The experienced singer has also received messages of support showing that Spain trusts in her.
Pilar Sánchez, better known as Pastora Soler has begun her challenge in the land of fire. On Friday 18 May, Televisión Española interviewed her at Madrid Barajas airport hours before leaving the Iberian Peninsula to cross a whole continent with a layover in Istanbul for her connecting flight to arrive at the edge of Europe.
During the interview, Pastora told the audience that she was only nervous because of the long trip, although she also commented that she had a lovely rest, a sign that means that she will be full of energy to show Europe that she is the hope that her country has for bringing the Eurovision trophy back to Madrid after 43 years celebrating the Song Contest in other lands. As a curiosity, she said that her husband and brother will be in Azerbaijan supporting her. The Spanish ambassador for Azerbaijan added saying that she set a good example fleying to Azerbaijan with just two bags. Despite her baggage, Pastora said that her stylist carried approximately twenty dresses for Pastora for interviews, parties and her stay in Baku.
During the interview, Televisión Española host Mariló Montero asked Pastora Soler if she has a Plan B in case one of her bags got lost. Pastora answered that she carried with her the dress that she will wear on the final. As the Spanish hope for this year is from the Spanish region of Andalucía, an area where its population is known for a unique sense of humour, Pastora said that if her Eurovision dress got lost, it would be because she would be lost as well. At the end of the interview, the backing singers which will add power to the Spanish ballad, have performed a bit of Quédate conmigo. Will Pastora Soler go back to Spain with the winner trophy on her baggage? What she takes from Spain to Azerbaijan is eighteen years of experience, enough for showing to Europe that Spain still has hopes for a third victory in Eurovision after winning the contest back to back in 1968 and 1969. Although Televisión Española reminded us that the contest will be held on the 26 May, we remind you that the semi-finals will be held on the 22 and 24 May.
Additionally, Pastora has received a tribute video that is a three minute cover of Quédate conmigo, called Quédate conmigo around the world. In this tribute video, singers like the Portuguese Rui Andrade, the British Sarah Quist and even a German saxophone player were among others from a total of ten countries that have promoted the Spanish entry all over the world. There were not just voices are from Europe, but also Canada and South Africa dedicated their voices to support the Spanish representative for this year.
Besides the international cover as a tribute to the entry of Spain, a group of Spanish singers have recorded a video wishing for a great result in Azerbaijan. Among the singers who sent a message to Pastora Soler were two former ambassadors of Azerbaijan.  One of those former Eurovision participants was Lucía Pérez (Dusseldorf 2011), who told her she supports Pastora a lot and Lucía also recognized that the Spanish representative of this year is a great artist. Lucía Pérez also joked with a comment playing with the title of Lucia's entry for Eurovision 2011.  Her comment was 'Pastora, remember that even if you win or not, we always can say that nobody can take away the good times we have had'.
Daniel Diges (Oslo 2010) sent a video message to Pastora telling her "you will do it perfectly, your entry is a hit, your voice is one of the best Spanish voices and from the whole world as well". 
Among the rest of singers, María Toledo, a Flamenco's music style singer said "We (Spaniards) are so lucky that you represent us because you are an artist with great experience". 
Pastora Soler arrived in the land of fire with the intention of being the biggest and hottest flame. Will she burn Europe and beat Alexander Rybak's winning score record? We all will know the answer on the 26 May.