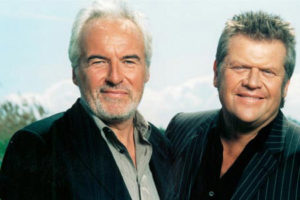 2000 winners The Olsen Brothers are taking their winning entry Fly on the Wings of Love to new heights this year, with a rather special performance of their entry that will no doubt give many fans the perfect start to their stay in Copenhagen.
Brothers Jørgen and Nils "Noller" Olsen won't be very visible at this year's Eurovision Song Contest in Copenhagen, following a cooling of their professional relationship with broadcaster DR. But fans needn't worry, as the terrific twosome will still be involved at Eurovision this year albeit not in Denmark. The two were originally requested bt broadcaster DR to keep their schedules open during Eurovision week. DR seem to have had a change of heart however, informing the pair that they instead wanted to look forward and excluding the Olsen Brothers from the Eurovision Show – a rather bizarre decision, given that there are only three previous danish winners and besides last year's winner Emmelie de Forest, the brothers should really have been a natural choice when celebrating all things Eurovision in the run up to the show.
Fans making the journey from Oslo to the danish capital Copenhagen on Saturday the 5th of May will be in for a very special surprise on board their flight. They won't have to wait until landing in Denmark before getting in on the Eurovision action, as airline Norwegian have secured the brothers to provide entertainment on board the flight.
On flight DY940 leaving Oslo at 13:50, Jørgen and Nils "Noller" Olsen will give a unique rendition of their winning entry and will be quite literally flying on the wings of love as they perform their signature tune 10,000 metres up in the sky and should hopefully get fans in the party spirit before landing at Kastrup. Welcome to Copenhagen everybody, let the party begin and thank you Norwegian for getting the Olsen Brothers involved with this year's Eurovision in some small way.