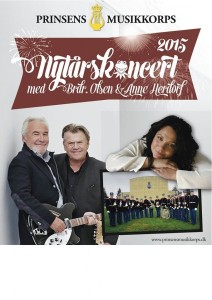 From tomorrow the 2000 Eurovision winners Olsen Brothers will tour the country together with another former Danish Eurovision participant, Anne Herdorf. Accompanied by Prinsens Musikkorps the two are ready with a show that celebrates love and the Danish soldier.
A TV serie titled "1864" recently finished on Danish broadcaster, DR. It is directed by Ole Bornedal and tells the story of love, hope and sorrow in the period of The Second Schleswig War, where Denmark suffered a big lose.
The new show announced by Prinsens Musikkorps is mentioned as: "After the 1864 serie we have put together a show that celebrates love and the Danish soldier in a good mix of of old well known songs and new songs". They are being performed with Olsen Brothers and Anne Herdorf. The Olsen Brothers won the Eurovision Song Contest in 2000 with the song Fly On The Wings Of Love, and Anne participated for Denmark in 1987 singing En Lille Melodi which finished 5th.
The line of concerts which are taken place under the name Nytårskoncerter (New Year concerts) 2015 and it isn't the first time these concerts include Eurovision participants. Previously they have toured with Dario Campeotto (Denmark 1961), Birthe Kjær (Denmark 1989) and Johnny Logan (Ireland 1980 and 1987), as well as national finalists from Denmark.
2015 concerts:
| | |
| --- | --- |
| Date  | Place  |
| 9th of January  | Thisted  |
| 10th of January  | Viborg  |
| 11th of January  | Langå  |
| 14th of January  | Harboøre  |
| 15th of January  | Ulfborg  |
| 16th of January  | Thyholm  |
| 17th of January  | Galten |
| 18th of January  | Ejsing-Egebjerg |
| 22nd of January  | Aalestrup |
| 23rd of January  | Skive  |
| 24th of January  | Frederikshavn  |
| 25th of January  | Brønderslev |
You might also like to read: