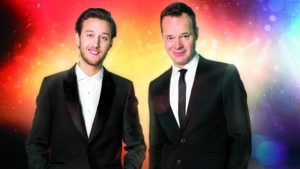 Today DR announced that it will be Jacob Riising and Esben Bjerre that will host the Danish final, Melodi Grand Prix, next year in February. It is only the second time Denmark choses a format with two male hosts. An announcement of the 10 acts is also expected soon.
The announcement first came this morning when Jacob Riising on Twitter shared an sms conversation where he "asked" Esben Bjerre if he wanted to join him as co-host of the Danish final. Esben responded with a clear yes, and about an hour later, DR confirmed it to be true.
Jacob Riising took a step up from the Danish junior finals, M:G:P, when he in 2014 hosted Dansk Melodi Grand Prix together with Louise Wolff. She was the experienced one, and he the newbie. This time he is the experienced one, and the newbie by his side will be Esben Bjerre, well known radio host from the Monte Carlo programmes, which however lately also has made some short TV series. Esben also commentated the Eurovision Song Contest this year for radio.
It is only the second time DR goes for a contstellation of two male hosts, first time was in 2006, and there might be more things coming which is a bit different. DR's head of Entertainment, Jan Lagermand Lundme says (Who also worked as Head of Show for Eurovision 2014): "Now we are ready with version 2.0 of Melodi Grand Prix, and with the new slogan "Drømmen Lever" (The dream is alive) have we spent the last few months to develope and abrasive our crownjuvel of entertainment, so that it this year will shine even clearer". 
Melodi Grand Prix 2015 will take place on the 7th of February 2015. It will be hosted from Aalborg in North Jutland, who also hosted in 1992, 2006, 2010 and 2012. The 10 acts that will compete to represent Denmark in Vienna are yet to be announced, but it probably won't be long as DR often comes with these announcements early December.
You might also like to read: