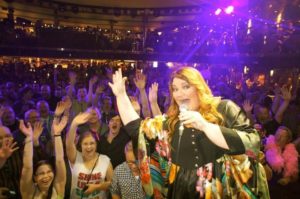 OGAE Finland played host to fans from all across Europe and beyond for the third edition of the Eurovision Cruise this weekend, experiencing a record turn out and an event which can only be described as an immense success.
OGAE Finland arranged its annual Eurovision bash for the third time last weekend; the event has experienced an explosive popularity among fans since its inception. One of the organisers, Jouni Pihkakorpi, told of how in excess of 2000 passengers had booked to take part in fun and frolics on the high seas from Helsinki to Tallinn on Saturday, 1st of September. An impressive 300 or so fans were on board from a number of countries, with Finland naturally well represented, but also decent turnouts from both Norway, Sweden and Germany and fans even coming from Spain, Belgium, the Netherlands, Israel and the US.
Although the cruise wasn't until Saturday, OGAE Finland had arranged a weekend filled with opportunities for for all things Eurovision already from Thursday evening with eurovison karaoke and the Second Chance Contest at the downtown Mann's Street bar. With fans coming from as far as Tel Aviv and New York especially for the event, Finnish fans played a great part in making all fans welcome. The weekend continued with the party vibe in the capable hands of Eurovision DJ Ohrmeister playing a set at the popular Hercules Bar, an offer that was clearly appreciated by fans as the venue was packed with revellers dancing to their favourite Eurovision tunes until well into the small hours.
Anticipation built up until the departure of the M/S Baltic Princess from Helsinki on Saturday evening with a packed ferry terminal and a fantastic party vibe filling the air. Everything was set for the perfect trip for any Eurovision fan, with entertainment in the form of appearances by Finnish funkster Laura Voutilainen, Icelandic temptress Hera Björk, Bosnian rocker Vukašin Brajić and this year's Estonian entrant and balladeer supreme, Ott Lepland, giving fans plenty of choice.
There were no fewer than three venues for fans to choose from – the regular ship bar with Eurovision karaoke, which turned out to be quite the crowd pleaser. Vukašin Brajić held a more low key affair in the ship's pub, while the more official proceedings got underway in the Starlight Bar with a warm welcome from Jouni Pihkakorpi before Ott Lepland took to the stage. He held a collective audience captive with a number of ballads in Estonian, including of course the crowd pleaser, from this year's Eurovision Kuula, which went down a storm.  What a contrast then, as Hera Björk took to the stage. Clearly in touch with her audience, she had them eating out of her hand, shouting and cheering for more songs. She treated all present to a potpourri of songs, including of course her own Je Ne Sais Quoi from 2010, which sent crowds crazy, and other highlights of hers included her Danish final entry Someday, as well as Selma's 1999 second placed All Out of Luck. With the crowds pleading for more, she came back on stage and did another performance of Someday. Last to complete the triple bill was Finnish favourite Laura Voutilainen, singing a potpourri of songs including some Eurovision numbers as well as her own 2002 disco stomper Addicted to You.
With DJ Ohrmeister and DJ Werneri playing Eurovision favourites in the disco onboard, many fans stayed up late into the wee hours dancing away the night. For those who had the stamina, a brief sojourn into Tallinn, host of the 2002 contest was on the cards before the ship set sail back to Helsinki by 1 pm. Vukašin Brajić gave fans value for their money once more, providing entertainment on the way back, with a set consisting of many covers, with an eclectic mix of artists from Madonna to Metallica. Once back on terra firma in the Finnish capital, any remaining fans who had an appetite for further entertainment could chill out and relax at the after party, once again hosted at Mann's Street bar with more karaoke on the menu which kicked off at 18:00 and continued on until early morning.
With a fantastic atmopshere and a packed programme, it was obvious that the board of OGAE Finland had invested a lot of time and effort into organising such a mammoth event. With this being only the third time the cruise has been held, the turnout was impressive and with such a well organised event, it's easy to see why it just keeps getting bigger and better for each year. Well done and a huge thank you to all those involved – all present seemed to have an amazing time and I for one will certainly be retuning next year!