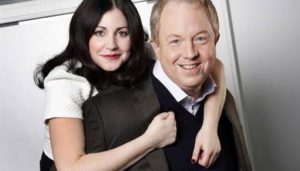 At a press conference today the Swedish broadcaster, SVT, revealed that it will be the two comedians Nour El Refai and Anders Jansson that shall host their national selection, Melodifestivalen, next year. Both will be on homefield when the first show kicks off from Malmö.
The Swedish press was gatherede at Studio 4 in Radiohuset, Stockholm today to meet the hosts of Melodifestivalen 2014. The press conference started at 11 and lasted one and a half hour , or 20 minutes for the webcast viewers. The Broadcaster revealed that it will Nour El Refai and Anders Jansson who will host the national selection that will pick the artist to represent the Swedish Eurovision honour in neighbouring Copenhagen May next year.
Both of them are comedians and from the South Swedish Skåne area where Malmö also is located. Nour El Refai is of Syrian/Lebanon background who is also known from several Swedish films. Anders Jansson has hosted TV programmes before so he is not totally unfamiliar with it. At the press conference it was revealed that it was Nour who was first selected, and then she actually suggested Anders.
With SVT before often using previous Eurovision and/or Melodifestivalen participants as hosts it is rather new to go for two comedians. 
Recent hosts of Melodifestivalen:
2002: Kristin Kaspersen and Claes Åkesson
2003: Mark Levengood, Charlotte Nilsson, Lena Philipsson, Carola Häggkvist, Lill-Babs, Roger Pontare and Jonas Gardell
2004: Charlotte Perrelli, Ola Lindholm and Peter Settman
2005: Alexandra Pascalidou, Shan Atci, Annika Jankell, Erik Haag, Henrik Schyffert, Jill Johnson, Johanna Westman, Kayo Shekoni, Mark Levengood, Markoolio and Micke Leijnegard
2006: Lena Philipsson
2007: Kristian Luuk
2008: Kristian Luuk
2009: Petra Mede
2010: Måns Zelmerlöw, Dolph Lundgren and Christine Meltzer
2011: Marie Serneholt and Rickard Olsson
2012: Sarah Dawn Finer, Helena Bergström and Gina Dirawi
2013: Gina Dirawi and Danny Saucedo
Melodifestivalen 2014 will as usual take place over a total of six weeks starting in Malmö on February the 1st ending with the big final broadcast from Stockholm the 8th of March, which also happens to be the date of the Danish national final, Dansk Melodi Grand Prix leaving many Scandinavian fans a difficult choice as to what to watch.
Melodifestivalen 2014 dates and places:
Heat 1: 1st of February from Malmö
Heat 2: 8th of February from Linköping
Heat 3: 15th of February from Göteborg
Heat 4: 22nd of February from Örnsköldsvik
Second Chance heat: 1st of March from Lidköping
Grand final: 8th of March from Stockholm
You might also want to read: