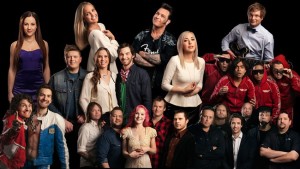 Just who will follow in the footsteps of last year's victor Tooji? Will the result be a shocker like last year, when hotly tipped Plumbo were defeated? Thankfully, we don't have to wait that long, with the Norwegian final of Melodi Grand Prix just around the corner.
This year's edition of Melodi Grand Prix may not be able to match previous years in terms of viewing figures, but one thing the new project manager Vivi Stenberg should be greatly applauded for – never before has there been such variety in a Norwegian final! This makes it all the more exciting, opening up the possibilities to no end as to who the Norwegian public will go for. Come take a closer look with Eurovisionary at the ten finalists who will be fighting it out for the ticket to Malmö on Saturday.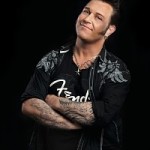 Song 1: Paid My Way – Vidar Busk (L: Timothy Scott McConnell / M: Vidar Busk)
Vidar Busk is a multi award winning musician and one of Norway's most acclaimed blues artists. Born in Langesund, 1970, he knew already as a teenager where his heart belonged. At the age of fifteen, he packed his bags and left for the USA to play in a band. There he made his debut playing in the band of American blues artist Rock Bottom. His love for blues and soul music kept him in the USA touring extensively until 1990, when he returned to Norway. There he started his own band, Vidar Busk & His True Believers and they released their debut album, Stompin Our Feet With Joy in 1997. The album caught on like wildfire among blues fans. The follow-up album, I Came Here to Rock appeared a year later and he was awarded the prestigious Spellemann award for artist of the year.
He gave out yet another album with the band before his first solo effort Venus Texas hit the shelves in 2001. It marked a change of direction for Busk, as he began to experiment with other music genres and clear soul influences could be heard in his music. His next album Love Buzz followed in 2003, which saw Busk venture even further into incorporating new musical styles such as rap and this album earned him his second Spellemann award for country/blues music. A sixth album, Starfish followed in 2005.
2007 saw the release of the album Jookbox Charade under the moniker Vidar Busk & The Voo Doodz. His latest album appeared in 2011, entitled Troublecaster which he released as part of the band Vidar Busk & His Bubble Of Trouble. Busk managed third place in his repective heat, the very first of the series from Steinkjer. This will be his first appearance at Melodi Grand Prix.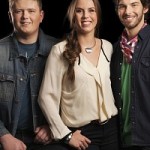 Song 2: Ulvetuva – Fjellfolk (L & M: Trym Bjønnes)
The trio Fjellfolk, or mountain people consists of Trym Bjønnes, Helga Jacobsen and Tor Hoslemo. All three have ties to the village of Bykle in the mountainous Southern region of Norway. The group originally started out as a duo back in 2005, experimenting with music mixing elements of electronica and jazz. Violinist Hoslemo joined the group in 2008, their sound becoming progressively more influenced by folk music.
The three also have careers as musicians in their own right. Composer Bjønnes is a graduate from the Liverpool Institute of Performing Arts, while his fiancée Helga has studied jazz in Stavanger. He has also maintained a parallel career as a solo artist, and his single Rain Will Fall gathered quite a bit of momentum, gaining considerable air play in late 2012. Hoslemo, on the other hand, has studied folk music with Setesdal's finest and has been voted national champion twice as young player of the Hardanger fiddle. Their entry is based on an tragic tale which is said to have taken place up in the mountains near Bykle hundreds of years ago. Fjellfolk advanced from their semi in Fløro, taking second position and good for them, with Ulvetuva being one of only two Norwegian language entries in the final this year.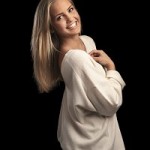 Song 3 : Bombo – Adelén (L & M: Ina Wroldsen / Quiz / Larossi)
Fresh faced Adelén is the youngest contender in this year's selection, aged only 16. The youngster hails from Horten and has a Spanish mother and Norwegian father, a background which is perfectly suited to her entry Bombo, a pop number with clear Spanish influences. What the budding young artist may lack in experience, she certainly makes up for in backing, with a team whose clients appear to be a who's who list from the music world.
Ina Wroldsen, a talented young songwriter was born in Sandefjord 1984 and has spent the last few years in London, where her career is based. She has expereienced a meteoric success, writing material for the likes of The Saturdays, Alexandra Burke, Britney Spears and One Direction. She was also behind the single released by the recent X-Factor winner in the UK, giving a number one hit. Wroldsen has teamed up with the Swedish duo Quizz and Larossi to write Bombo. As with Wroldsen, the duo also have an enviable CV, having written for the likes of Diana Ross, Il Divo and Westlife. Young Adelén wowed many with her vivacity on stage and it's little wonder viewers voted for her en masse, awarding her a first place in the third heat in Larvik, thus securing her a place in Oslo Spektrum.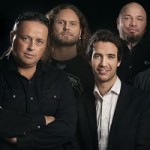 Song 4:  Alone – Gromth feat. Emil Solli Tangen (L: Gromth /M: Emil Solli-Tangen / Sven Atle Kopperud) 
Gromth and Emil-Solli Tangen give us an entry in the unusual metal-opera genre. Gromth are a five piece band formed in Ås in 2010, consisting of Grimd on guitar, Tjodalv on drums, Ole Karlsen providing vocals, Andre Aaslie on keyboards and Kjell "Damage" Karlsen on guitar. Signed to the World Apart Records label, their album debut, The Immortal came in 2011 with an astonishing sixteen tracks!
Emil Solli-Tangen is unknown to the majority of us, but his elder brother, Didrik Solli-Tangen is more familiar as the 2010 Norwegian entrant to the Eurovision Song Contest. Emil is following in his brother's footsteps to a certain extent, completing his opera studies at the Norwegian National Academy of Opera in 2011. This will be his first outing to a national final, and his debut couldn't have a better pedigree, as the track Alone is written by amongst other Sven Atle Kopperud from the world famous Norwegian black metal outfit, Dimmu Borgir. Gromth and Emil were the surprise victors from the first heat, many claiming that their first place was a result of protest votes against what many would define as bubblegum pop in the contest.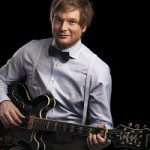 Song 5 : Awake – Gaute Ormåsen (L : Gaute Ormåsen / Jesper Borgen / M: Fredrik Borgen)
Gaute Ormåsen was born in 1983 in Brumunddal. He first came to the attention of many after having taken part in Idol in 2003, where he came second. His music career really took off following the exposure, with a #1 single, Chasing Rainbows and a #2 album New Kid In Town. He took a long break away from the spotlight after the success to hone his talents and didn't reappear until three years later with his album G for Gaute in 2006. By then he had switched to writing and recording almost exclusively in Norwegian.
A stint starring in a popular Norwegian soap opera, Hotel Cæsar, followed in 2008 and the same year he released his third studio album, Drømmesang (Dreamsong). 2010 saw Ormåsen make his debut at Melodi Grand Prix with Synk Eller Svøm (Sink or Swim) which took him to the Siste Sjansen round. His fourth album Oss Imellom (Between You and Me) appeared at the same time. He released his latest album and single last year. Gaute can pat himself on the back, having made it to the final for the first time and for one of his dreams finally coming true.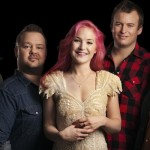 Song 6 : Sweet & Heavy– Lucky Lips (L & M: Malin Pettersen)
Lucky Lips are an up and coming band that have played together for over five years. Malin Pettersen is the striking, pink-haired vocalist and she is accompanied by Stian Jørgen Sveen on guitars and backing vocals, Erlend Støylen Hølland on the contrabass and backings, Even Reinsfelt Krogh on the banjo, and Pål Emil Berg on percussion.
During the course of their career, the band have released two albums, Life Without Parole, which was released in 2011 and Mountain Dust, which came the following year and received glowing reviews. Lucky Lips have toured extensively, both at home and abroad, and they will feature in the By:larm festival in Oslo after their participation at Melodi Grand Prix. They have made quite a name for themselves abroad, after having won the prize for "Best European Bluesgrass Band" in the Netherlands in 2011. Despite not managing a top three placing in their respective heat last weekend, a panel from NRK decided to award Lucky Lips with a Wildcard to the final, probably based on artistic merit.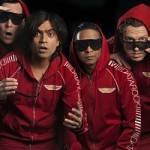 Song 7: Underground  – Datarock (L & M: Fredrik Saroea / Pål Myran-Håland)
Datarock are the last of the first seven contenders, and they are fairly well known in their native Norway. The band hail from Bergen and were founded in 2000. The line up has changed over the years and current members Fredrik Saroea on vocals, guitars and keyboards, Thomas Larssen on bass, Kjetil Møster on saxophone and Tarjei Strøm on drums will fly the Datarock flag on stage when they finally make their Melodi Grand Prix debut this year.
They cite such diverse acts as Talking Heads, Devo and Happy Mondays as their influences and made their breakthrough i 2005 with their third album Datarock Datarock. Other album releases include Red (2009), Catcher in the Rye (2010) and California (2011). Their music has been used by such huge corporations as Coca Cola and Apple, as well as featuring in no fewer than 22 different computer games.  The band are currently working on a project, Datarock – The Musical, which they hope will result in both an album, stage production and even film. The group managed a convincing second place in the very first heat of Melodi Grand Prix, proving that their party vibe on stage was indeed contageous.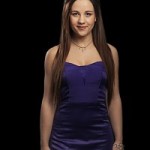 Song 8: I'm With You – Annsofi (L & M: Alexander Rybak)
Sarpsborg-born Annsofi may only be 18, but her a face will be no doubt familiar to some viewers. She got her first big break three years ago, when she made it all the way to third place in the talent show X Faktor. She was also seen earlier on that year together with Wig Wam front man and former Eurovision entrant Åge Sten Nilsen as part of his choir in the reality series Det Store Korslaget.
They young talent had her first encounter with none other than Alexander Rybak when she contributed to his last  album, Christmastales. The pair obviously must have got along famously, as it resulted in Rybak composing her entry I'm With You and we all know that Rybak certainly has a knack with all things Eurovision, considering the performance of his song Fairytale at Eurovision. Despite her newcomer status as an artist, Annsofi went on stage and sang her heart out, enough to convince the televoters, earning her a third place in her semi and winning her a spot in the final.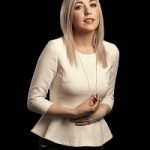 Song 9: Feed You My Love– Margaret Berger (L & M: Karin Park / Robin Lynch / Niklas Olovson)
Margaret Berger, born in 1985 in Trondheim, first rose to fame after coming second in the Idol series in 2004. She has been writing and composing music since her childhood, singing in a gospel choir before studying music.
Following her appearance on Idol, her debut album Chameleon was released, which spawned hit singles including Lifetime Guarantee, which also won her a Spellemann award for music video of the year. That same year, Berger was also nominated for the best newcomer award. She has made quite a name for herself as an electronica artist, releasing the follow up album Pretty Scary Silver Fairy in 2006 and the hit single Samantha. A lengthy silence followed before Berger bounced back on to the scene with a single release in 2011, In a Box, receiving rave reviews. She is currently working away on her third studio album.
The team behind her entry are all well respected musicians in their own right. Karin Park has been an active artist for ten years, enjoying considerable success in Norway. Niklas Olovson and Robin Lynch have under the guise Machopsycho worked with such huge international artists as Pink, Jessica Simpson, Natalie Imbruglia and the Backstreet Boys. Since sweeping all competition aside in her heat, Berger's entry has been the one that has seen the most action on various Norwegian charts – perhaps this is a sign of things to come on Saturday.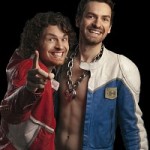 Song 10 : I Love You Te Quiero – Sirkus Eliassen (L : Magnus Eliassen / Erik Eliassen / M: Magnus Eliassen)
Sirkus Eliassen are two brothers, Magnus and Erik Eliassen who have experienced nothing short of an explosive rise to fame. The duo hail from Northern Norway, Bodø to be precise, and their songs are sung in their local dialect. Their first encounter with the music industry came in 2003, with thre release of the Magnetisk Nord EP. Fast forward seven years later and Erik enjoys a stint in Jamaica, where he is taken under the wing of a local music producer.
In 2011, the duo took the Norwegian music scene by storm with the release of the single Hjem Til Dæ (Back To Yours), racking up sales in excess of 50,000. A follow up single, Opp Ned Bak Frem (Upside Down, Back to Front) was released that same year, also achieving enviable sales, selling to double platinum. In early 2012 they experienced what it was like to have a monster hit on their hands with the single Æ Vil Bare Dans ( I Just Wanna Dance), which spent an astounding 28 weeks on the charts. Their collaboration with DJ Ben Kinx sold ten times platinum, shifting a staggering 100,000 copies in a country with only 5 million inhabitants! The duo came, performed and concquered with their trademark wacky staging, earning them a second place in the final semi last Saturday.
You might also like to read: