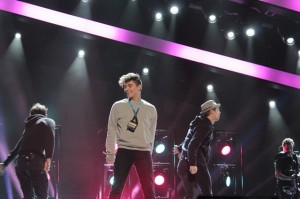 Today, Thursday, the participants in the second semifinal of Melodifestivalen will rehearse on stage for the first time. EuroVisionary is present and will provide you with the latest news of what happens during the rehearsals. This article will be updated throughout the whole day as the artists practice their performances.
Song number 1: Anton Ewald – Begging
(Fredrik Kempe and Anton Malmberg Hård af Segerstad)
Anton starts of all alone on stage and throughout the first verse there are a lot of close ups of him and he is really flirting with the camera. In the beginning of the of the second verse Anton is accompanied on stage by two dancers. This is his very first rehearsal on stage as a solo artist and he seems a little bit nervous, though the dance part are really good right from the start. In the article about this weeks artists you could read that he got his education at The Royal Swedish Ballet School and when you see Anton dance on stage you can really see that he is a very talented dancer. Between the run trough's Anton talks to his dancers and they practice the steps together. He also gets a little help from his friend Jennie Widegren who is here to help him with his performance. During the second run through Anton seems much more relaxed and
smiles into the camera. This is a performance with a lot of energy and Michael Jackson inspired choreography. We get to see Anton's clothes on a hanger and it looks like black costume and white shirt for Anton.   
During the first run through Anton has a hard time finding the right notes, especially in the beginning. In between the rehearsals Anton sings a little and already during the second run through he seems more relaxed and he sounds much more relaxed and finds the notes much better. 
Song number 2: Felicia Olsson – Make Me No 1
(Amir Aly, Henrik Wikström, Ingela Pling Forsman and Maria Haukaas Mittet)
Debutant Felicia has big yellow light behind her and sings into an old 60's inspired microphone. In the beginning she stands all alone on stage but halfway through the song she is accompanied by a choir though I guess that the TV audience won't see them on Saturday since they are standing at the back of the stage behind the yellow lights. This is Felicia's debut in Melodifestivalen and it impresses me that she seems to be relaxed already in the second run through. She seems calm and finds the right camera angles, but to really capture the TV viewers she needs to show a lot more emotions. They show Felicia's dress on a hanger and it's a black and seems to be long and have decorations around the shoulders or neck.
Felicia has a really strong voice but seems a little bit nervous during her first run through, you could hear her voice shake a little from time to time. During the second run through the voice already sounds steadier.  Maria Haukaas Mittet is one of the composers behind this song and Felicia's voice really reminds you of Maria's own voice.
Song number 3: Erik Segerstedt & Tone Damli – Hello Goodbye
(Robin Fredriksson, Mattias Larsson and Måns Zelmerlöw)

On Saturday Tone and Erik will start as song number three, but since Tone needs to drive back to Oslo this afternoon they swapped rehearsal time with Joacim Cans. In the beginning of the song Erik starts off out on the catwalk all alone with his guitar where he sings the first verse. Tone stands on the stage behind Erik and begins to sing with him at the first chorus. While Tone sings the second verse Erik walks back to her on stage, they then stand together for the rest of the song.  During the first run through Erik and Tone stood together at the front of the stage and sang into a microphone stand holding both their microphones. But during the second run through Tone holds her microphone in her hand from start to finish. For the last chorus Erik let's go of her guitar, takes his microphone and walks with Tone to the very front of the stage. This is a soft song and there is nothing else happening on stage then Erik and Tone standing next to each other singing. To connect to the viewers the really depend on their charisma and that the viewer's sees the connection between them.
Both Erik and Tone are excellent singers and since they both are experienced artists they can relax on today's rehearsal. Their voices really work well together and give a very balanced impression to this soft song.
Song number 4: Swedish House Wives – On Top of the World
(Peter Boström and Thomas G:son)
The trio Jenny Silver, Pernilla Wahlgren and Hanna Hedlund is accompanied on stage by four dancers and a golden staircase. Try to get a glimpse of the dancers golden shoes; they could literally light up the stage. Before the first rehearsal starts the girls have a long chat with the production team there seem to be a lot of questions about positions and camera angles. In the introduction of the song the trio comes up from behind the stairs and then stays on top of the staircase through the entire first verse. For the first chorus they start to walk down the stairs to the front of the stage where they are also accompanied by the four dancers. Seven people on stage is a lot and when you are sitting in the arena it looks like a big mess from time to time and during the first run through Hanna Hedlund and Pernilla Wahlgren almost collided at one point. During the third run through Pernilla took a wrong step and fell, luckily she didn't get hurt and could get right back up again. This is a up tempo, feel good song with lots of dancing. This can be a competitor for one of the pots to the final if they manage to sort out the camera angles and make it less messy.
All three of the girls are really strong singers and their voices work surprisingly well together. Hanna sounded a little out of breath during the first run through, not strange since there is a lot of dancing.
Song number 5: Joacim Cans – Annelie
(Joacim Cans)
Joacim will start as song number 3 on Saturday, but Tone Damli who is starting as song number 5 on Saturday needed to drive back to Oslo they switched rehearsal times with Joacim Cans. Joacim is accompanied on stage by an entire band with three guitarists, a drummer, a bass player, a man playing hurdy-gurdy and a one girl choir. In the introduction Joacim stands center stage but soon walks to the front of the stage where he stays throughout almost the rest of the song.  If you heard him sing in his band Hammerfall you might be surprised. This is nothing like the songs you heard him do earlier. This is a feel good pop song in Swedish about a girl named Annelie. Joacim has done several TV productions before and toured with Hammerfall for several years, this rehearsal seems like a walk in the park for him. He is relaxed through the whole performance and seems to be very comfortable on stage.
Heavy metal singer Joacim has a strong voice but in this soft song he doesn't need to use it. It's surprisingly nice to hear him sing a Swedish pop song. But
Song number 6: Louise Hoffsten – Only The Dead Fish Follow The Stream
(Louise Hoffsten, Sandra Bjurman and Stefan Örn)
The monitors behind Louise show water and she is standing in the center of the stage. She is accompanied by two women and a man who sings and plays guitar. For parts of the song when she doesn't sing, Louise plays a mouth organ. Louise has had a long and successful career in Sweden and has a lot of routine when it comes to TV productions and she really seems to enjoy her rehearsal on stage. Louise is a big artist in Sweden but unfortunately I think she is depending on her fans to vote to be able to get votes on Saturday. The performance does not add the energy needed to capture the TV viewers. The clothes are shown on a hanger and we see a black dress and a sparkling jacket.
Louise´s voice suits this rock and blues inspired song very well. Lousie is an excellent singer her rehearsals runs very smooth and despite all the talking and interviews earlier today at the press conference she managed to keep her voice strong.
Song number 7: Rikard Wolff – En förlorad sommar
(Tomas Andersson Wij)
Before Rikard starts to rehears on stage the stage crew is actually painting the grand piano with black felt-tip pens. At the first run through Rikard starts off sitting on a high chair with his back to the audience but to the next run through he stands up instead. He is accompanied by a woman playing the grand piano but except that there is nothing else on stage. However there are pictures of children projected so the viewers will see them next to Rikard on their tv screens. We are shown the clothes on a hanger, it's a black dress for the woman playing the grand piano and a costume jacket for Rikard.
Rikard has both a strong voice and an exceptional expression as an actor, however in this performance that is hard to tell at least during the first run through. I get a feeling that he doesn't hear himself in his in ear as it sounds like he sings in a totally different key than the music. During the last run through he seems to have found the same key as the music is in and it sounds much better, and now his charisma shines through as well
Song number 8: Sean Banan – Copacabanana
(Sean Banan, Ola Lindholm, Hans Blomberg and Joakim Larsson)
Sean starts off behind a white cover which is dropped at the very beginning of the song. He then heads out on the catwalk where he is accompanied by his six dancers. If you thought his performance were crazy last year brace yourselves, this year he is even crazier. This performance involves a man going into a closet with a costume and coming out on the other side with a sparkly playsuit, it also involves Sean Banan with huge angel wings on his back. In the beginning of the song Sean Banan has white clothes on but after he has left the catwalk he changes to pink sparkly ones. This is this semifinals most energetic performance with its many dancers, bright colors and the huge angel wings. Why the huge angel wings? Yes, Sean Banan flies towards the end of the performance. On today's rehearsal they didn't really quite get it right and Sean Banan was a slantíng a little and was almost hanging sideways.
Sean Banan started his career as a dancer and singing is not really his strength. In Melodifestivalen he is helped by a choir which covers up most of his false singing. Sean might not be a strong singer, but he is an entertainer for sure.
Be sure to visit EuroVisionary tomorrow to be provided with the latest news and pictures from tomorrow's rehearsals.