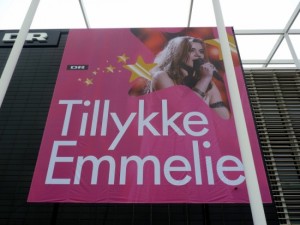 A desicion regarding the host city for the 2014 Eurovision Song Contest was expected yesterday at the Reference Group meeting in Copenhagen, but seems to be delayed indicating that none of the suggested options are optimal.
Five cities were in play first with a total of 8 different ideas as to where the 2014 Eurovision Song Contest should be held. They were narrowed down to three cities as first Aalborg and later Fredericia pulled out and finally then Parken withdrew it's hosting offer. 
Left are Copenhagen with two options, Herning and Horsens with one one each, but none of these are ideal for a Eurovision Song Contest and for DR and the European Broadcasting Union, EBU, it is about finding the best solution to the fact that there are no alternative.
Let's look at the problems involved in each of the suggested arenas: 
Boxen, Herning: This arena is generally considered the most suitable arena Denmark currently have for events like this, but the city is far from that. It is located in the middle of Jutland with no large airport nearby, it only has about 20% of the required hotel capacity and it has not enough restaurants and bars to cope with 10.000 people extra. Herning's offer focuses a lot on people staying in Århus instead just as it appears like they are planning to put some of the other arrangements like Euroclub, opening party and such in this city, which is Denmark's second largest. Like that Århus would be paying to the contest as well, which is probably the reason behind this. Having basically two host cities like that could work if the distance between them were closer than it actually is. A quick look at Google maps shows that it takes more than an hour, up to one and a half hour in day traffic to drive from Århus to Herning. Three hours commute each day is not suitable for the Eurovision Song Contest and a better alternative to Herning would be preffered despite the best arena being here. 
B & W hallen, Copenhagen: With a raw factory building there can be many problems in terms of making it suitable for the Eurovision Song Contest. Can you build commentator booths? What will the enormous height do to the accoustic? It has also been hinted that this option involves using two halls, which are to be put together to one. How easy is that construction wise? This arena option appears to be the most likely option to go for in lack of others, but there will be construction challenges, which building engineers first will need to look at before announcing it for the Eurovision Song Contest. 
The tent at DR Byen, Copenhagen: It seems fairly easy to reject the tent. This suggestion involves having the stage in DR's concert building and the audience in a tent next to watching the contest on a big screen. Sometimes it is fine to think a bit out of the box, but having almost no direct audience is probably a bit too radical. DR has previously spoken out about the importance of also looking at how much the ticket sale brings in and therefore not go for a too small arena. It rather gives itself that you can't get 10-15.000 people to pay full ticket price for watching the contest on a big screen in a tent next to the actual arena just as it takes away a lot from both the participants as well as the hosts. Having audience in front of the stage is rather crucial for a live TV programme like the Eurovision Song Contest where it is common to work together with the spectators.
Prison yard, Horsens: Very few take this hosting offer seriously as it simply includes too many things that wouldn't work. It will be standing places only, which won't work for a TV show that lasts more than three hours. There will be no commentator booths in the arena itself, instead the commentators will be put in the prison cells. If anything unexpected happens the commentators will then not be able to see what is going on, which is not workable. Furthermore problems regarding the construction as well as the accoustic with the glass roof can easily appear. Horsens don't have the required hotel capacity either.  
The sad thing is that there are other alternatives which could have worked well – had they wanted to. In Copenhagen they are currently building a multi arena ideal for events like this, but it will take a few more years to finish. The national football stadium Parken, which hosted the contest in 2001, could have worked despite its heavy critics for bad accustics, and had someone put a bit more pressure on FC Copenhagen playing there they might not have pulled out. In Düsseldorf they had the football club playing at a temporary football stadium, which would also have been possible in Copenhagen.
Had Aalborg not pulled out it is very likely that they would already have been announced as host city for the 2014 Eurovision Song Contest. The city has a suitable arena, enough hotel capacity and also a rich day and night life. Aalborg pulled out saying that DR had told them that it required 3000 hotel rooms in the city centre. We know that this is not correct as previous host cities have always used hotels outside the city centre. In Aalborg's case it would mean that a hotel right across the arena couldn't be counted in. It was also mentioned that Aalborg had a congress in one of the two planned Eurovision weeks, but as the contest was later moved one week Aalborg would have been fully free. It is therefore easy to conclude that Aalborg simply didn't want to despite that it is now clear that it was one of the best options for the 2014 Eurovision Song Contest. 
The descision right now stands between B & W hallen in Copenhagen and Boxen in Herning. If the factory building can be used for the contest they will probably win it, but if it can't we are instead off to Herning for next year's Eurovision Song Contest.
The announcement is expected very soon, although at the moment it is hard to tell exactly when we will see the white smoke.
You might also want to read: