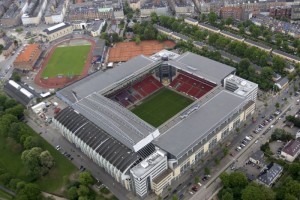 Next year's Eurovision Song Contest won't be held in Parken in Copenhagen. Today the company behind the arena withdrew its application, just a couple of days after first Aalborg and later Fredericia also pulled out of the race. Two other possibilities in the capital are still an option. 
It was the most likely arena that today withdrew its application to host the 2014 Eurovision Song Contest. The arena hosted the 2001 contest and despite sound problems, it was still an obvious choice, mainly due to the lack of other suitable arenas.
The cheif of Parken Sport and Entertainment, Anders Hørsholt says: "We prioritise football and in particular F.C København will have a busy schedule in the spring. Therefore we have taken this decision though we appreciate that many see us as a good hosting solution". To host the Eurovision Song Contest it would have been needed for them to clear the calendar for six weeks and find other arenas for F.C. Copenhagen and the Danish national team who plays there.
Wonderful Copenhagen who stood behind the Copenhagen bids for Eurovision says that they are very sad to hear Parken making that conclusion, but that they still feel positive about their remaining two suggestions for the capital, as that is the only of the cities in the play that lives up to the hotel requirements, is close to an airport and have the night and city life, the foreign visitors will be expecting. Still in the race for Copenhagen is a tent at DR's headquarter and the olf factory building B & W. 
Copenhagen is up against Horsens and Herning, after Aalborg and Fredericia pulled out. With Parken not being an option anymore Herning came a lit closer to the contest as they have a very good suitable arena, but it requires that DR and EBU look aside the hotel requirements in the actual city and that the visitors will be willing to travel up to three hours per day. 
You might also want to read:
– Fredericia withdraw its host application
– Aalborg pulls out as possible host city