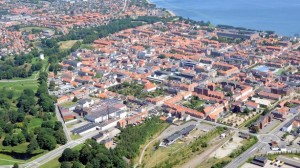 Out of the five cities interested in hosting the 2014 Eurovision Song Contest only three are left after Fredericia this evening withdrew its application. They did so as they realised that their suggested arena didn't meet the requirements from DR.
The first city Herning already expressed their wish to host next year's Eurovision Song Contest before Emmelie de Forest had won the contest in Malmö. In the days after the result several other cities joined in on the fight which stood between Copenhagen, Horsens, Fredericia, Aalborg and of course Herning.
As Aalborg later pulled out due to lack of hotel capacity, it looked quite obvious that the other Jutlandic cities would follow as they have lower capacity than Aalborg do. In Aalborg it was mentioned that DR, the Danish broadcaster, had demanded 3000 double hotel rooms in the city centre. In Denmark only the capital, Copenhagen can match that. 
Horsens, Herning and Fredericia however decided to keep their bid open hoping that hotelrooms in cities up to two hours away can be counted in or that a solution can be found via the use of containers for sleeping facilities. Tonight however Fredericia officially withdrew their hosting offer. The explanation given is that they have been looking closer at the arena requirements and seen that their MesseC did not meet those. Therefore they decided that there was no need still to be in the race.
For Copenhagen three options have been suggested; Parken, which also hosted the 2001 Eurovision Song Contest, an old factory building and a large tent next to DR's headquarter. Hernings wants to host the contest in Boxen, which has hosted many big TV shows before like X-factor and also the Danish final and finally then Horsens wants to put a glass roof over their prison yard. The latter is not considered a real option to many: It has been mentioned that this solution will only provide standing places and there won't be any commentator boots possible in the "arena" itself. Instead the commentators will be placed in each their prision cell with a TV screen. 
Therefore it looks like it is only a choice between Herning and Copenhagen. Herning might have the most suitable arena, but the city is quite small. It doesn't have enough hotel capacity, restaurants and night clubs to host up to 10.000 people coming for the contest. Time will tell what is most important: The most suitable arena or the most suitable city. 
You might also want to read: 
– Eurovision 2014: Aalborg pulls out as possible host city
– Video for Only Teardrops released