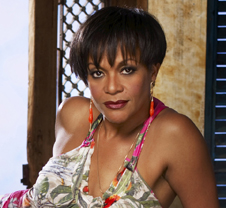 Ruth Jacott, the Dutch entrant who sang Vrede to a 6th place for the Netherlands in 1993 is to feature as the special guest at an upcoming event in Amsterdam. The event is called DreamsLive Dinner Show and will take place on the 24th of September.
Frank Wentink is the entrepreneur behind the successful concept, where every weekend at Studio 21 a Broadway show is performed while guests enjoy fine dining and a touch of the good life. Wentink has previously managed to get hold of artists such as The LA Voices, Gordon (from The Toppers), Anita Meijer and Lee Towers to appear at his soirées, Ruth Jacott however is something of a coup.
Following her first rehearsals, Jacott tells of how she missed performing: "It's been some years since I've stood on stage. I'm really looking forward to it", she tells Dutch tabloid De Telegraaf. "It's always nice to be asked. Frank Wentink always has great dancers and solid perfomers for his shows. Of course, I can only speak on my behalf, but it's fantastic to be working with someone again."
Although Jacott has a new CD in the pipeline entitled Simply The Best, the guests at DreamsLive get to hear more familiar numbers from her repertoire, something which is greatly appreciated. The sultry singer goes on to say "I sing recognizable songs that everbody knows, it makes for a good atmosphere. With regards to the new album, I daren't say so much yet, as it's still at an early stage. But what I can tell you is that it's completely different to what you would expect from me." Jacott is hired to appear at 10 shows, as well as to perform at a special Christmas edition of the event where she will adapt her show to incorporate some festive numbers. When asked what kind of audience she thinks her show will attract, Jacott is highly uncertain: "I went along last week, just to take a look. People were smartly dressed, so I'll choose an equally chic wardrobe too."
There are more exciting things for the star approaching too, with a nomination for the Edison Jazzism Public Prize which will be decided in late October. Her nomination is for the album A Tribute to Billie Holliday, which at the moment is enjoying a convincing lead. When asked of her winning chances, she coyly replies: "Of course, I haven't won yet but I've already prepeared a beautiful song that I'll be able to perform."