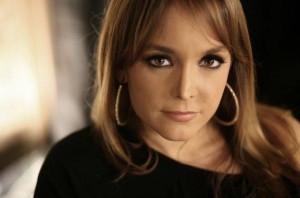 The show called El Festival De Tu Vida that can be translated as The Festival Of Your Life arrives to Madrid to pay tribute to the most popular songs from the fifty-five year history of the Eurovision Song Contest. The big night will be on October 5 at Galileo Galilei's hall starting at 00:30h.
This is show that the Eurovision fans have been waiting for: a musical dedicated to the history of the Eurovision Song Contest that will be a unique opportunity to enjoy the first show about this subject in Spain. It will be in charge of the artists from the theatre company founded by Dany Cantos and the guest star will be Anabel Conde who represented Spain at the 1995 Eurovision Song Contest reaching the second place in the scoreboard with the song Vuelve Conmigo.
A cast of five singers, eight dancers and two actors, who have managed to succeed in Andalusia for the last five years touring and performing different musical shows, will pay tribute to some of the songs that have been heard at the Eurovision Song Contest with hits such as En Un Mundo Nuevo (performed by Karina in 1971), Eres Tú (Mocedades, 1973) or Quédate Conmigo (Pastora Soler, 2012). But the show will go over not only the greatest Spanish entries but also will pay tribute to the most popular songs that have been happening throughout the history of the Eurovision Song Contest and of course, the most recent winner Euphoria by Loreen.
This show has managed to carry out thanks to the work and dedication of a team composed by professional and versatile young artists. Among them there are singers who have won several competitions in Spain, experienced backing singers who have worked with the biggest stars of the music scene and the best funk, flamenco, hip hop, jazz and classical dancers. The quality of their voices and their choreography together with numerous costume changes are the result of a high quality show and unprecedented.
Tickets are priced at 22 € including one drink. The way to get them is by payment or transfer to the following bank account number: 2103 0187 22 0010066167 with your name. Once the payment is done, you just have to send an email to [email protected] with your name and ID number and the night of the event you will access just showing your ID at the entrance of the hall.
In the videos below you can watch a preview of what will be the live show and also see Anabel Conde singing this year's Spanish entry Quédate Conmigo together with Dany Cantos.