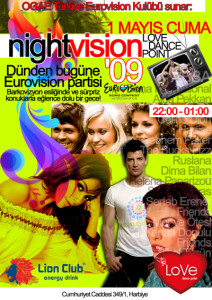 This year, OGAE Turkey – the Turkish organization beloved to Eurovision Song Contest – has decided to celebrate their Turkish Eurovision Party. Called Nightvision Party, it will be an open organization for everyone interested in Eurovision Song Contest. It will be held on 1st May.
OGAE Turkey's traditional NightVision party will be held in İstanbuls Love Dance Point, where very famous parties are held. The party will have the title of "Dünden Bugüne Eurovision" and it is known that the party will also be the anniversary for the famous entrants in the past as ABBA, Celine Dion, Cliff Richard, Dana, Sertab Erener, Helena Paparizou, Lordi etc. It will also be the preview party for the 2009 Eurovision Song Contest, which will be held on Moscow this year.
Some suprise famous names have been announced as guests on 1st May at the NightVision party. For more information, you can visit the OGAE Turkey's offcial website by clicking here. You can also visit the offical website of the Love Dance Point by clicking here.
The show will be between 21.00 – 00.30 CET on 1st May, and the entrance fees will not be taken from anyone attending the traditional show, so in this way, OGAE Turkey is ready to welcome all the Eurovision Song Contest fans.
The address of the Love Dance Point, where the party to be held, is: Cumhuriyet Caddesi, No: 394/1 Harbiye – İstanbul.