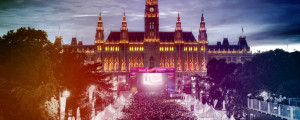 Today the host broadcaster ORF has revealed some information regarding this year's Eurovision Village which will be located at the Rathausplatz in Vienna. It will be open from the 18th to the 23rd of May and will offer visitors a number of interesting events and concerts.
The Eurovision Village will be the hotspot for all fans of the Eurovision Song Contest from the 18th to the 23rd of May with live performances from this year's Eurovision participants in a giant stage, public viewings of all the shows (both semifinals and the grand final will be shown live on the huge screens), themed days… and much more.
It will be located at the Rathausplatz in Vienna, a large square right in front of the beautiful town hall in the heart of the city.
The official opening of the Eurovision Village will take place on Sunday, the 17th of May, at 18:00 CET with the traditional Opening Ceremony which will be attended by all delegations.
Since then, it will be a fun place for all the fans with lots of activities. The programme is as follows:
Monday, 18th of May
Opening fashion show with designers from many of the participating countries.
"60 Years of the Song Contest" with the cover band The Bad Powells and former Austrian Eurovision entrants such as Duo Mess or Thomas Forstner.
Tuesday, 19th of May
Performances by Austrian national finalists Zoe and Celina Ann.
Eurovision Song Contest Quiz.
Public viewing of the first Semi-Final.
Wednesday, 20th of May
Tribute to Udo Jürgens.
Performances by the pre-qualified finalists.
Thursday, 21st of May
Performance by this year's Austrian representatives The Makemakes.
Public viewing of the second Semi-Final.
Friday, 22nd of May
Conchita-themed day: "Conchita – Queen of Austria"
Saturday, 23rd of May
Live show including the announcement of the Austrian votes by Kati Bellowitsch from the Eurovision Village.
You might also like to read: