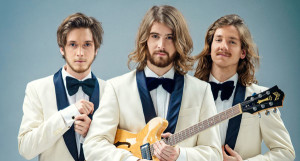 Ekstra attention will be on the Austrian act this year as the country have the honour of hosting the Eurovision Song Contest. Tonight six acts competed to do the almost impossible of follow in the steps of Conchita Wurst. The Makemakes won the the national final with the song I Am Yours. 
Six acts had qualified for tonight's Austrian final through preselection heats which ended with their songs for tonight being chosen last week by the coaches of the show, Anna F., Nazar and The Bosshoss.
The songs:
Folkshilfe – Who You Are
These three young guys formed their band in 2013 and they like to mix pop with traditionel folk and a bit of humour when performing. They all sing, and play each their instruments; a drumkit, a guitar and a harmonica. Fire is used on the sides and back of the stage for this performance. Plenty of light effects is used as well. It is well receieved with the audience, but this is not one that would appeal internationally.
Zoe – Quel Filou
This young singer is born into musican being the daugther of a well known musician. Zoe also combines music with acting as well as working as a presenter. Tonight she was dressed in a short dress in 1920's style, which fits as this is a song which best can be described as music from inbetween the two world wars. She has a buch of musicians with her on stage which she interacts a bit with. It's unusual and certainly one that will create a lot of extra attention if this will make it to Eurovision, however it is impossible to tell how this will do simply as there aren't many countries where this kind of music is still heard, although some might chose to compare it to the UK entry this year.
DAWA – Feel Alive
This four piece band started as a duo, but then added a cello player and later again one more member bringing them up to the number of four they are now. Aside from the cello, they also have two drums and a guitar on stage. The song starts out quite good, but unfortunately you quite quickly get tired of the chorus. Smoke it used throughout this song. It gets a fantastic applause from the audience, but at the Eurovision Song Contest this entry would drown.
Celina Ann – Utopia
Here we have a 23 year old girl who gained a jazz background, before she decided to switch over to pop. Aside from singing, she also works as a model, so the audience will have something pretty to look at as well. Tonight she was dressed in a long black and red dress and naturally the stage is kept a lot in red. She has four backing singers and a keyboard player with her whom she doesn't interact with. It is pop ballad where the wind mashine is used in plenty. Celina Ann sings it well and it is best so far, but admitted, not with much competition.
Johann Sebastian Bass – Absolutio
A highly unusual act, that's what we have here. They claim they met each other already in 1755, which would then have been few years after the German composer Johann Sebastian Bach died. They travelled with a time-mashine in order to be there for tonight's show. With rococo clothes and wigs they play electrococo, a mix between electro pop and baroque pomp. On stage they also have three opera singers with them. It is an entertaining act sung in English, and if Austria wants an entry that will get lots of attention from the internal media and probably create a lot of fun around the press centre, this is the song they should go for. Last year we had many in the Eurovision press centre walking around with Conchita paper beards. Will we see lots of wigs this year? It is certainly popular with the audience and should not be ruled, but it is an act, not a song, the Austrians will vote for here.
The Makemakes – I Am Yours
This is a three piece rock band, which previously has released a few singles and also featured on the Austrian charts. This is not one of their rock entries, but a piano ballad. Aside from the piano they also use an electric guitar and a drumkit on stage plus a tambourine. It is actually quite an ok ballad where lights on stage sets the mood. Not what you expect from a rockband, but this was well sung and it easily comes across as the strongest. It has a tendency to be a bit too dull, and with all the ballads chosen do we need one more? 
The show:
Tonight's Wer Singt Für Österreich started at 20:15 CET and was hosted by Mirjam Weichselbraun.
The show kicked off with a performance of Rise Like A Phoenix performed by the participants – and in a significantly more rocking way that what we remember from Conchita Wurst. A big choir helped out during this performance, which certainly was interesting and a different way to do an introduction of the artists.
Before they went on stage each participant saw down for an interview with the host. After a re-run we saw clips from some of the entries chosen in other countries – giving the Austrians a taste of what they will be up against in Vienna in May. These clips was done with comments to them.
Before the first result was shown we had the participants singing Merci Chérie (Austria's Eurovision winner from 1966). This was a great performance, probably the best tonight. Coming in second on that list is Conchita Wurst singing Unstoppable while the second voting round went on.
The result:
It was a combined result of televoting and jury that would make up the Austrian result. The jury was an international jury consisting of 10 countries (Italy, Spain, United Kingdom, France, Germany, Slovenia, The Netherlands, Latvia, Israel and Australia). The split was the trationel 50/50.
Latvia gives 12 points to Zoe
France gives 12 points to The Makemakes
Australia gives 12 points to The Makemakes
The Netherlands gives 12 points to Zoe
Spain gives 12 points to The Makemakes
Israel gives 12 points to Zoe
United Kingdom gives 12 points to Folkshilfe
Germany gives 12 points to The Makemakes
Slovenia gives 12 points to Zoe
Italy gives 12 points to The Makemakes
After the international jury had voted The Makemakes were in first position with Zoe in seond and DAWA third. 
The public voting had Zoe in third, DAWA second and The Makemakes first. Through to a quick second round of voting went DAWA and The Makemakers. They didn't perform again. Votes were cast based on a re-run and the viewers given six minutes to vote in. The result was quickly announced: The Makemakes.
Austria at the Eurovision Song Contest: 
In 1957, Austria joined the Eurovision Song Contest. They won for the first time in 1966 with Udo Jürgens's Merci Chérie, but then things turned rather mixed for the country until Conchita Wurst's victory last year. The country failed to qualify for the Eurovision final in 2005, 2007, 2012 and 2013 and they have finished last a total of eight times.
Since their debut, Austria have however finished in top 10 no less than 21 times, and in particular in the '80's and the '90's this was a quite common result for them.