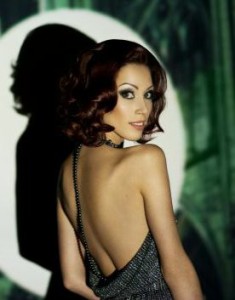 Moldova tonight selected Aliona Moon to represent them at the 2013 Eurovision Song Contest with the song A Million. Moldova were the last country to select their representative for Malmö.  After two semi-finals 14 songs competed for the winning ticket to Sweden.
The songs –
1. Cristina V & Glam Girls – Celebrate
Here we go with a great lively start.  Upbeat dance song.  Quite catchy. The girls are wearing short flared skirts. Good vocals. Promising start. 
2. Boris Covali – Runaways
Boris is wearing a black jacket and trousers with a white t-shirt.  He is alone on stage.  The song begins as a ballad.  It builds in to a mid tempo melodic song. Another confident performance.
3. Cristina Croitoru & Karizma – Never Fall Again
Cristina & Karizma perform an ethnic type song.  They are joined by four backing vocalists (two female and two male).  Some chanting but very strong and confident vocals. 
4. Svetlana Bogdanova – Conquer My Heart
Classy song and performance.  Svetlana is masked and wearing a long black dress.  She is joined by three violinists (two female and one guy) and female backing vocalists.  This sounds like a James Bond movie soundtrack song. 
5. Nicoleta Gavriliţă – Freaky Thong
A lively song by Nicoleta.  She is joined by two girl dancers/backing vocalists.  She is wearing a short blue dress. Strong performance.
6. Aurel Chirtoacă – Iartă-Mă
A ballad by Aurel.  He is wearing a black jacket and trousers.  He begins sitting on a small table and eventually ends up at the piano.  I do not think I heard any applause for this at the end.
7. Irina Kitoroagă – L.o.v.e. Love
A midtempo song with an r'n'b style and also a little rapping by Irina.  She is joined by two girl dancers who are backing vocalists too.
8. Anna Gulko – Somebody Else
A happy feel good vibe to this one.  Anna is wearing a short yellow dress and is joined by a male band with guitarist, drummer and accordion player. There are also two backing vocalists.  Catchy song and melody.
9. Vitalie Negruţa – You'll Be Mine
This has ethnic influences.  Upbeat and lots happening on stage.  There are three girl dancers giving a spectacular show.  Good vocals by Vitalie too.
10. Cristina Scarlat – I Pray
A ballad by Cristina.  She is wearing a black and white dress.  Song is a little forgettable though.  Cristina is an exerienced singer but that might not be enough.
11. Doiniţa Gherman – Planeta e un rai
A big show on stage. Doiniţa is wearing black leather jacket and short skirt.  She is very tall and has long red hair. The song is lively rock/pop.
12. Tatiana Heghea – A Brighter Day
The song begins slowly and eventually builds with a flute to start in to an upbeat song with some ethnic overtones. Tatiana looks elegant on stage wearing a long light blue dress.  She is joined by two girls and two male dancers. Another song that I can imagine taking the Eurovision stage. 
13. Felicia Dunaf – Codename Felice
Felicia is wearing a short orange dress with silver slash at the top. There is a male dancer on stage throwing himself all around with a girl dancer too.  There are three backing vocalists too.  The song is a midtemo r'n'b pop song. 
14. Aliona Moon – A Million
The song is gentle style ballad.  Aliona is wearing a long light blue dress with large rings at the top. She has three girl dancers.  Interesting end to the songs as it builds eventually to it's climax. 
The show –
Cătălin Josan and Evelina Vîrlan hosted the and Lucian Dumitrescu reported regularly with updates and interviews with the acts from the green room.
The interval act included Marcel Ştefăneţ Project, who provided amongst their set a medley of Eurovision songs of Qele Qele (Sirusho –  ESC Armenia 2008) and Nije Ljubav Stvar (Željko Joksimović – ESC Serbia 2012), Diva (Dana International – ESC Israel 1998), Fairytale (Alexander Rybak – ESC Norway 2009), Always (Arash & AySel – ESC Azerbaijan 2009), Believe (Dima Bilan – ESC Russia 2008), Waterloo (ABBA – ESC Sweden 1974).
Alyona Lanskaya from Belarus then performed her 2013 Eurovision song, Solayoh. Alyona is wearing a long white and red dress and she is joined by four male dancers.
The voting –
The voting consisted of half expert jury and half televoting. So the winning act tonight was Aliona Moon with A Million and she will go to Sweden and represent Moldova at the 2013 Eurovision Song Contest.
Moldova at the Eurovision Song Contest –
Moldova made their first appearance at Eurovision in 2005 Zdob şi Zdub with Bunica Bate Toba and finished in sixth place.  Arsenium feat. Natalia Gordienko finished in 20th place in 2006 with Loca.  TVM threatened to withdraw in 2007 but the public demanded they stay in Eurovision.  Natalia Barbu participated that year with Fight and finished in tenth place.
In 2008 Moldova failed to make it to the final with the jazz type song A Century Of Love by Geta Burlacu.  In 2009 Nelly Ciobanu performed Hora din Moldova and finished in 14th place.  Sunstroke Project & Olia Tira went to 22nd place with the dance song Run Away in 2010. Zdob şi Zdub returned to the Eurovision stage in 2011 with So Lucky and went to 12th position.  Pasha Parfeny sang Lăutar in 2012 and finished in 11th place in Baku.
You may also like to read –