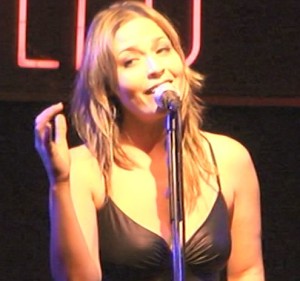 World famous Israeli Palestinian singer Mira Awad who represented Israel at the Eurovision Song Contest two years ago gave an acoustic concert at Galileo Galilei's club in Madrid last night. EuroVisionary attended the concert and we have, exclusive for our readers, a video with some of the best songs of the night.
Mira Awad is an Israeli Palestinian singer, actress, and songwriter and in 2009, she was chosen to represent Israel at the Eurovision Song Contest alongside Noa, singing the song There Must Be Another Way. From very early on she got involved in the defense of equality for those Palestinians living in Israel and in the development of a deep environmental awareness. Faithful to her ideas that peaceful coexistence between Israelis and Palestinians is perfectly achievable, she enjoys worldwide recognition.
She has always been an adventurous singer and songwriter, not afraid to sample different languages and cultures. Her music is a fusion of all sort of musical influences and the blend is sensuous, exotic and rhythmic.
Mira's concert last night was a mixture of her two albums: Bahlawan (Acrobat) which is an album in Arabic and All My Faces produced by Spanish producer Carlos Jean with songs in English and with more musical diversity like pop and rock combined with Arabic beats and sound.
The concert started with an a capella version of the song Daylight And My Heart from her first album. Later, the guitarist Shay Alon and the drummer Israel Kimchi appeared on stage. The next song was And I am a Forest with Mira playing an Arabic flute. Despite the fact that the song is in Arabic, everyone could connect with the feeling.
Dream Coming True is another of the tracks of this new album. It is a stunningly beautiful song, like a boat that takes the listener off on a voyage across a quiet, calm moonlit sea. Also, for the very first time she sang in perfect Spanish the version of the song Roads, translated as Tierra Sin Ley.
Mira surprised the audience with an excellent version of the song All I Want by Joni Mitchel and Sting's classic Fragile. She also performed a traditional song in Bulgarian called 'Sobrali'. That influence of her comes from her mother whose homeland was Bulgaria, which explains why she grew up with Bulgarian music alongside with the Arabic sounds.
At the end of the show Mira Awad sang her emotional composition Bukra (Tomorrow), the first single of her second album. It is a wonderful and passionate song that brings together traditional and contemporary elements. That song has a poetic rhythm filled with joy that touches you from the beginning to the end.
Mira's songs take on an extraordinary dimension in concerts and she gives to the audience a musical experience that is authentic and one of a kind. The fullness and the richness of her voice are amplified a thousand times by her enthusiasm and it is easy to see on her face that she loves what she is doing. Her songs always have masterful lyrics and that is what makes them worth listening to them more than once.
Below you can watch EuroVisionary's videos from the live performance of Mira Awad in Madrid singing Daylight And My Heart and And I Am A Forest.