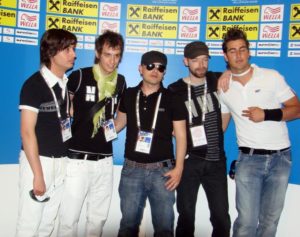 After representing San Marino at its very first participation in the Eurovision Song Contest, Miodio is now ready for a summer tour where they will be performing in Italy, Moldova and San Marino. At the same time the country's Minister of Youth express hopes to be back for Eurovision 2009.
As the plans are now Miodio will start at the Piazza Castello in Turin (Torino) on 20th of June. Three days later they will perform in Florence (Firenze), also in Italy and in the beginning of July followed by three days at the Festival di Chisinau in Moldova.
On the 9th of July they will be in performing in Dogana, San Marino and on the 25th of July Ravenna in Italy is on the schedule.
This year's winning tour ended in San Marino and according to Eurovision.tv their Minister of Youth they used that event to express hope for the country to continue in the Contest despite the fact that Miodio didn't manage to qualify for the final in Belgrade. The broadcaster will take the final decision later this year.
Complete list of Miodio's summer tour, as it is known now:
20th of June: Piazza Castello, Torino, Italy
23rd of June: Florence, Italy
4th of July: Festival di Chisinau, Moldova
5th of July: Festival di Chisinau, Moldova
6th of July: Festival di Chisinau, Moldova
9th of July: Parco Ausa, Dogana, San Marino
25th of July: Festa dell'Unità
Links