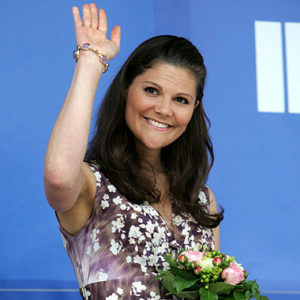 On Tuesday July 14th, it is Her Majesty Crown Princess Victoria's birthday. Malena Ernman and Måns Zelmerlöw will be at Borgholm to celebrate with her, along with other stars from Melodifestivalen.
Ever since 1978, we have been celebrating Crownprincess Victoria's birthday at Borgholm. It's a tradition that SVT congratulates Crownprincess Victoria with a show, broadcast on TV. This year, Melodifestivalen stars Malena Ernman and Måns Zelmerlöw will perform at the show.
It's also a tradition that Crownprincess Victoria awards one of the Swedish athletes that has been highly successful during the year with a scholarship. This year it is Helena Jonsson (Biathlon) that will receive the scholarship during the celebrations. The preliminary schedule for the day is:
5.00pm     Entrance opens
6.25pm     Holder of scholarship arrives
6.30pm     Royal family arrives
6.50pm     Celebration of Her Majesty Crownprincess Victoria
Helena Jonsson will receive her scholarship
Entertainment on the stage
8.15pm     Final
As previously mentioned, the entertainment this year is Malena Ernman and Måns Zelmerlöw, who both participated in Melodifestivalen this year. Joining them on stage wil be Lena Philipsson, Orup and Jill Johnson all with a lot of experience of Melodifestivalen. Malena Ernman was a debutant in Melodifestivalen this year and the one representing Sweden in Eurovision Song Contest. Måns Zelmerlöw participated 2007 with Cara Mia and finished 3rd. This year his song had the title "Hope & Glory", but he wasn't that glorious, he finished 4th in the final.
Lena Philipsson has a lot of history when it comes to Melodifestivalen. She has participated 4 times: 1986 Kärleken är evig, 1987 Dansa i neon, 1988 Om igen, 2004 Det gör ont (It hurts). In addition to this, she is loved by the Swedish audience and has had numerous hits in the Swedish charts over the years.
Orup has only participated one time as an artist in Melodifestivalen, it was 1989 with the song Upp över mina öron. But he has also participated as a composer in 2004 when he wrote Det gör ont for Lena Philipsson. Orup is one of Sweden's most loved artists and has had a huge amount of hits on the Swedish charts.
Jill Johnson won Melodifestivalen 1998 with the song Kärleken är and of course represented Sweden in Eurovision Song Contest that year. She also finished 4th in the final 2003 with the song Crazy in love. In 2005, she hosted the final of Melodifestivalen in Ericsson Globe Arena. Jill has had a long and successful career in Sweden and is loved by the Swedish audience.
The show will be broadcast on SVT on Tuesday at 9.00pm, but unfortunately not on SVT Play. For more information about the event and ticket information please visit the official website, link can be found below.
Links