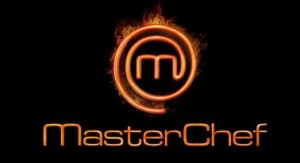 Last night Denmark kicked off for its third season of Masterchef. We will see two former Dansk Melodi Grand Prix participants trying to prove that they got what it takes in a kitchen. Against their opponents we also find a former national final host and a jury member.
Last year we saw a total of four former Dansk Melodi Grand Prix participants in the line-up for Masterchef. Last night the third season started on TV3 Demark with two former national finalists, one host and a jury member from this year's Dansk Melodi Grand Prix:
Noam Halby: As lead singer in the band Johnny Deluxe Noam participated in the 2009 Dansk Melodi Grand Prix where the band finished 3rd with the song Sindssyg. The year after Noam was back, this time as a songwriter for Jens Marni on Gloria. The band announced in early 2012 that they had decided to split up.  
Trine Gadeberg: It was back in 2000 we saw Trine Gadeberg participate in the Danish final. She sang the song Lykkefugl and released an album in 2001. Aside from a Christmas album in 2008 we have mainly seen her as an actress since then. 
Julie Berthelsen: In 2002 Julie Berthelsen won the talentshow Popstars and since then she has been an established singer. It was however as host we saw Julie in relation to the Dansk Melodi Grand Prix as she hosted the show in 2010 together with Felix Smith. 
Cutfather: International producer living in the US. He became known in Denmark when he was judge on X-factor. In the newly held Dansk Melodi Grand Prix 2013 Cutfather was one of the jury members. 
The programme:   
The programme whose format originally is from BBC has been/or is running in many countries. It is quite simple: A bunch of people compete on cooking skills. Various versions of the programme has been seen over the years. Some with non famous people, who likes to cook and others with famous people known from anything else than cooking. In Denmark it is the last version, which is being used.
The three judges are all professionnel chefs: Thomas Herman, Thomas Castberg and Henrik Boserup. 
The other participants: 
Noam Halby, Trine Gadeberg, Julie Berthelsen and Cutfather will be competing against:
Søren Fauli, Actor and director
Ole Stephensen, Former actor and TV host, now producer
Rikke Hørlykke, Prof. Handball player
Sophie Løhde, Politician
Julie Steincke, Actor
Karin Mortensen, Prof. Handball goalkeeper
David Owe, Actor
Michel Castenholt, Actor
Jim Lyngvild, Fashion commentator
Anja Steensig, Entrepreneur
Mette Reissmann, TV host and politician
Michael Rasmussen, Former prof. cyclist
Christina Hembo, Designer
Thomas Wivel, Comedian
Pia Allerslev, Mayor
Alexander Kølpin, Ballet director
Jes Dorph-Petersen, TV host
Naser Khader, Former politician
Therese Glahn, Actor
Nanna Schultz Christensen, Former TV host and model
Kenneth Carlsen, Former prof. tennisplayer
UFO Kristian Humaidan, Musician
Rune RK, DJ and producer
Barbaera Zatler, Model
Sarah-Sofie Boussnina, Actor
Jens Andersen, Actor
Martin Veltz, Comedian
Mette Frobenius, Comedian
Carsten Werge, Football commentator
Maria Erwolter, Actor
Søren Hauch-Fausbøll, Actor and comedian
Jonas Schmidt, Actor and comedian
Jens Blauenfeldt, TV host
Lotte Heise, Former model, TV host, lecturer and known as speedtalker
Sofie Linde Nørgaard Lauridsen, Actor and TV host
Charlotte Bircow, Fitness guru
Julie Bundgaard, Radio host
Peter Palshøj, TV host 
Masterchef started its third season last night, Monday the 28th of January. In the first episode the contestants were Ole Stephensen, Peter Palshøj, Søren Fauli, Julie Steincke, Karin Mortensen and Sophie Løhde. They were asked to make Icecream in 30 minutes with the use of nitrogen and afterwards they had 60 minutes to make the dessert Baked Alaska. At the end of the episode Sophie Løhde was eliminated. 
Stay tuned on EuroVisionary as we will frequently update you on how our Danish finalists are doing. 

You might also want to read: