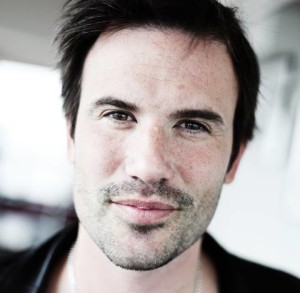 Fans of Eurovision will remember Martin Stenmarck for his rather steamy performance of Las Vegas, the Swedish entry for Eurovision in Kiev in 2005. Since then, his career reached new heights in his homeland with multiple #1 albums. His career is about to diversify this autumn when the star makes his acting debut.
The closest Martin Stenmarck has come to a career on the silver screen is through dubbing animated films, such as Cars. He was also host of the TV show Kvällen är Din in 2011, but is now ready to take the step in becoming a bona fide film star. Stenmarck has long since had an ambition of appearing in film, and once the recording of the romantic comedy Kärlek Deluxe (Deluxe Love) begins in Stockholm this coming autumn, his dream will finally come true.
The film is already attracting comparisions to a Swedish Notting Hill, with a cast including another name with a Eurovision connection – one of the hosts of this year's Melodifestivalen Sarah Dawn Finer. The pair will star alongside such experienced actors as Moa Gammel and Malin Buska. Buska and Finer are to play the roles of two best friends while Stenmarck, has landed the part of a musician named John.
So, is the prospect of playing his first role proving to be daunting for Martin Stenmarck? In a brief interview with Swedish tabloid Expressen, he said "What's been the hardest thing so far? Well, I'm quite used to going with the flow, but in this case, I've got a script to follow. I'd say learning my lines has probably been the most difficult thing with the project. But Moa Gammel, my adversary, is amazing, so I guess I'll just sit back and enjoy the ride."