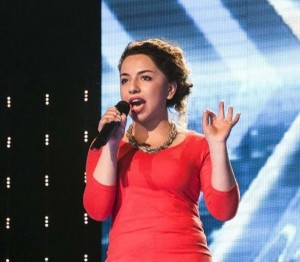 Mariam Kakhelishvili won a lot of hearts and respect when she represented Georgia at the 2010 Junior Eurovision Song Contest. Now Mariam is participating in X Factor Georgia and she is currently receiving rave reviews for her performances and is tipped to do very well in the competition.
Mariam Kakhelishvili was born in 1995 and first came in the musical spotlight by appearing in the Georgia's Got Talent (Nichieri) tv show in 2010. She finished in third place in the competition.
Mariam was selected to represent Georgia at the 2010 Junior Eurovision Song Contest in Minsk, Belarus. She performed the catchy song, Mari-Dari, and finished in fourth place that year.
Since the Junior Eurovision, Mariam has been studying and trying to perfect her vocal techniques. She is now a competitor in the X Factor Georgia show currently being broadcast on the Rustavi 2 network tv. She is now receiving exceptional comments and reviews from viewers and journalists not only in Georgia but worldwide via You Tube and other media websites.
Mariam is expected to go far in the competition after amazing and faultless performances of songs like Piece Of My Heart (Janis Joplin) and I Have Nothing (Whitney Houston).
Maybe we will see Mariam grace the Eurovision stage in the future if she continues this musical path she is currently embracing. 
You can see Mariam perform I Have Nothing and Piece Of My Heart on X Factor Georgia below.
You may also like to read –