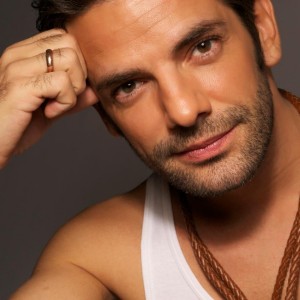 Spanish-Austrian Manuel Ortega had it all at one point. He had the looks, the moves and a catchy tune, when performing Say A Word for Austria at the 2002 Eurovision Song Contest. Things have been pretty quite around the artist lately, so fans will be thrilled to learn that he is back looking and sounding better than ever.
Since his breakthrough in 2003, Manuel Ortega managed to build quite the successful career for himself in Austria. With a handful of single releases following the chart success of his 2002 entry Say A Word, the star seemed to have it made. However, since the release of his last studio album Angekommen (Arrived), fans have had very little new material from the star with the exception of the sporadic single releases  Nur Du (Only You) in 2010 and Herzschlag (Heartbeat) in 2011.
But fans need not fear, because Ortega is back, bigger and stronger than ever with his first album release in six years, the aptly titled Niemals Zu Spät (Never Too Late) with Ohne Worte (No Words) being lifted as the lead single from the album. The album has a whole 16 tracks to enjoy and although mainly a German language offering, there are clear influences from his Spanish background and the reference to him as an Austrian Ricky Martin will no doubt continue.
Ohne Worte was released at the begining of June, entering the single charts at the end of the month and has since went on to give Ortega yet another top 10 hit. Niemals Zu Spät is currently available as a digital download album on the EratoMusicGroup label and can be purchased at both iTunes and Amazon.de. Welcome back, Mr. Ortega, you've been sorely missed! Keep your eyes peeled for a review to follow some time soon and in the meantime you can see his latest music video below: