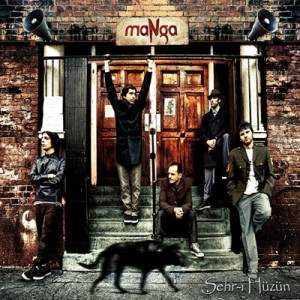 MaNga, the Turkish representative at Eurovision Song Contest 2010 inOslo, had released their latest album called Şehr-i Hüzün on 29th December. Nowadays, their album is living its highest points on several charts.
The album has released by Sony Music Company who also distribute many famous music stars' work such as Michael Jackson and Leona Lewis. The company also works with ex-Eurovision Song Contest winner Sertab Erener and Emre Aydın last year's MTV EMA winner in Turkey.
There are 16 songs on the album ranging from slow to up-tempo but all are MaNga style songs. Beni Benimle Bırak, Dünyanın Sonuna Doğmuşum, Her Aşk Ölümü Tadacak were hit songs from the album in the last 2 months and now Cevapsız Sorular which is a slow song from the album tops several charts. The songs on the album are (tracklist):
1- Gün Doğumu
2- Beni Benimle Bırak
3- Dünyanın Sonuna Doğmuşum
4- Cevapsız Sorular
5- Evdeki Ses
6- Her Aşk Ölümü Tadacak
7- Şehr-i Hüzün
8- Hayat Bu İşte
9- Üryan Geldim
10- Tek Yön Seçtiğin Tüm Yollar
11- Gecenin Ritmi
12- Hepsi Bir Nefes
13- Sessizlik Sona Erdi
14- Kaçamak Faslı
15- Alışırım Gözlerimi Kapamaya
16- Gün Batımı
The first track Gün Doğumu is coming to you in very ethnic style without lyrics and it is lets you imagine yourself in a different world. The album continues with another two up-tempo songs Beni Benimle Bırak and Dünyanın Sonuna Doğmuşum which make you think that the album is really good.
The fourth song Cevapsız Sorular which is in slow pop & rock style, is lets the album taste rise above. Evdeki Ses and Her Aşk Ölümü Tadacak is takes your interest from this album.
The song named Sehr-i Huzun which is the title track is performed without lyrics that includes melodies of album songs in a mixture. Gecenin Ritmi and Kaçamak Faslı are another two songs without lyrics in the album.
The album has placed in top 50 in Turkish charts at 36 even though
it was released just two days ahead of 2010. Now it has reached the
top 10 charts in MTV Turkey and is still rising in MTV European charts.