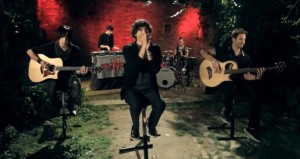 MaNga, the famous Turkish nu metal band, has recently released a new song and a music video. Rezalet Çıkarasım Var is the second single from their latest album and is already enjoying success in Turkey.
MaNga is well known for being the winner of MTV EMA 2009 and having represented Turkey at Eurovision Song Contest 2010. After concluding the contest as the runner-up, they hit big post-Eurovision success in Europe and released a follow-up song in English, called Fly to Stay Alive. In spring 2012, their third studio album E-Akustik was released. This album included acoustic versions of several previous tracks, and 6 brand new songs. Rezalet Çıkarasım Var is one of them, and the second single from the album.
Rezalet Çıkarasım Var (I Want to Create a Scandal) is composed by Yağmur Sarıgül, the electric guitarist of the band. The musical style of this song is the familiar MaNga sound which is a fusion of rap, rock, and Anatolian melodies. The lyrics are written by Ferman Akgül (Lead singer of the band) and Yağmur Sarıgül.
Rezalet Çıkarasım Var is a rebellious song. The message of the lyrics is that people have had enough of society's enforcements. When they behave unusually, they're immediately alienated and isolated. They want to break the habits, be what they want to be, rather than what society wants them to be, and if they're not appreciated and accepted this way, they're going to Create a Scandal.
The band has done some promotion for this song via social networks. On their official Twitter profile (@maNgamusic) they asked their followers to share what makes them want to create a scandal with the hashtag #RezaletCikarasimVar.
The music video was directed by Burcu Öztürk in New York, featuring Italian actor, Fabrizio Parecchio Gianelli.
You can watch the music video of Rezalet Çıkarasım Var below: