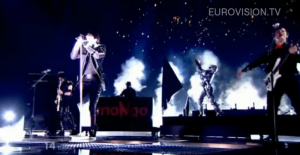 Former Turkish representatives, maNga, who participated at the 2010 Eurovision Song Contest, are back with their new album, e-akustik, which was released last week. Their participating entry, We Could Be the Same features on the album but the first video is related to the song Hani Biz.
E-akustik means electric acoustic, the idea of the album name came out after all the instruments were recorded live. Besides the old maNga fashion, they re-covered their older songs with an electronic music style on the album. Nine songs from the best of maNga and three new songs came together to make a new album.
The news songs, titled Hani Biz, Rezalet Çıkarasım Var and Ben Bir Palyaçoyum, were recorded with a very popular Turkish pop music singer, Yıldız Tilbe and the arrangement of those songs was made by Yağmur Sarıgül. Therefore the first music video related to e-akustik was recorded to the song Hani Biz and of course maNga and guest singer Yıldız Tilbe made an appearance. The song is written by the lead singer of the group Ferman Akgül and then the composition was made by himself and Yağmur Sarıgül and the video was directed by Murat Ongun.
Another guest act was world famous Arto Tunçboyacıyan, who made the opening on the album and the regional instruments such as ney, kanun with international instruments such as violin, clarinet, cello, saxophone and mandolin were used while producing the song, which makes the album special.
The old and famous maNga songs such as Bir Kadın Çizeceksin, Beni Benimle Bırak, Cevapsız Sorular and Dursun Zaman were re-covered appropriate for the album's concept. They finished second in the 2010 Eurovision Song Contest after winning MTV's Best European Act award. Their participating song, We Could Be the Same, can also be found on the album with a new version.
The album was released in Turkey on March 20th, but it is yet to be found in the stores in Europe – where it will be found soon. Below, you can remember the performance of We Could Be the Same once again, or you can take look at the new video of the album, Hani Biz (performing with Yıldız Tilbe):