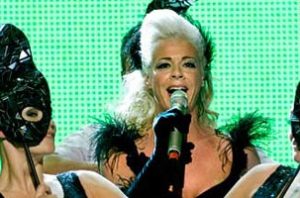 Austrians seemingly can't get enough of Sweden's Grand Dame of Opera Malena Ernman at the moment. The versatile artist represented Sweden at the 2009 Eurovision Song Contest with poperatic entry La Voix. She's presently giving her own interpretation in the opera Serse by Händel.
The star recently was featured in the premier of Serse at the Theater an der Wien in Austria. Following her appearance, critics have been falling over themselves to praise her performance, heaping superlative after superlative upon the overwhelmed singer, describing her performance as phenomenal and sensational, to which Malena Ernman replies that she's "never experienced anything like this before."
Both German and Austrian press make their shared infatuation with the diva very clear, praising her in the leading role of the opera with the likes of "Malena Ernman triumphs with an acting tour de force on stage as well as dazzling us with her vocal prowess." Austrian daily Kurier awarded Ernman 5 stars for her performance, leaving the singer somewhat shellshocked: "It's like nothing I've ever experienced before. In one case, after an aria in the second act, the applause and cries of "bravo" just kept on coming. After more than a minute or so I was forced to interrupt the audience in order to continue. I've performed with Bartoli on numerous occasions, but have never before experienced this" she says in a press statment.