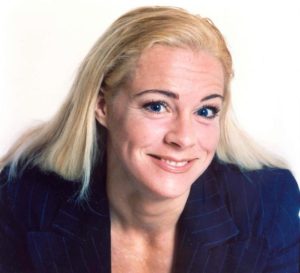 Winner of the Swedish Melodifestivalen 2009 and Eurovision representative Malena Ernman is reported to have been made singer by the appointment of the Royal Swedish Court, according to her comments on Twitter.
It is the first time the title has been bestowed upon any artist in 5 years, and Malena's reaction was one of amazement and excitement, when she stated "Wow, I've just been given some amazing news". Malena was awarded the title together with two other Swedish singers, Anna Larsson and Miah Persson. The title is awarded on the basis of an artists efforts in spreading and bringing international attention to Swedish song, and will come into effect as of the 1st January, 2011. Other artists to have previously been awarded the accolade are Swedish opera singers Jussi Björling and Jenny Lind as well as popular entertainer and the very first Swedish representative from 1958, Alice Babs. 
Malena is currently promoting her forthcoming Christmas album Santa Lucia – en Klassisk Jul/ St. Lucia – a Classic Christmas as well as a simultanoeus Christmas concert tour which has been received with mixed reviews.
The recent news is yet another highlight in Malena's succesful career, following her tenure at operas in Paris, Vienna and Amsterdam as well as her victory in the 2009 edition of Melodifestivalen, where she went on to represent Sweden in Moscow with La Voix, reaching an undeservedly low 21st place with 33 points.
Links