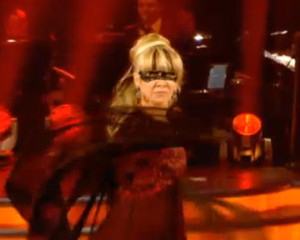 There was a suitably spooky theme to the BBC1 show tonight, as the dancers aimed to avoid the nightmare of being eliminated from the competition. Lulu looked the part as she aimed to continue her steady progress in the dancing show with risk taking partner, Brendan Cole in a Halloween special.
Of the eleven remaining couples, Lulu and Brendan had to wait until nine had danced before taking to the floor. Adorned in a black and white dress with a sheer, pleated black fabric on her arms designed to look like Bat wings, Lulu danced a Paso Doble to AC/DC's Highway to Hell. The start of the routine was one of the most memorable of the series so far. She glided down from the balcony and 'flew' back up to it at the end. To the viewer, her routine looked high energy and crisp, containing many turns and flourishes. However, the judges often see things differently.
Good news awaited Lulu and Brendan when the verdict was given. Lively Italian, Bruno Toliolli said, "You handled the tricks with great panache. I couldn't help thinking that you were about to go wrong, but you didn't, you did nothing wrong." Even the normally critical Craig Revel-Horwood was generous, saying "It was a fantastic concept, although it was a battle for supremacy while you were in the holds."
Head judge, Len Goodman, always has something positive to say. "There were plenty of tricks and quite a few treats. What entertainment, I loved it!" Alisha Dixon was the last one to give her opinion, "I loved the entrance. You can be proud of yourself."
In the post-dance interview, Lulu was obviously happy with her performance, commenting "I loved it out there". Professional partner, Brendan, was keen to praise the efforts of the wardrobe and props staff.
When the scores came in, the news was not bad, but could have been better. She scored 29 points out of a possible 40, placing her 7th out of 11. The results show tomorrow evening will reveal if she has to rely on the judges to keep her in the competition, or if enough viewers have voted for her to give her automatic passage to next week's show, taking her one step nearer to the final in the world famous Ballroom in Blackpool.