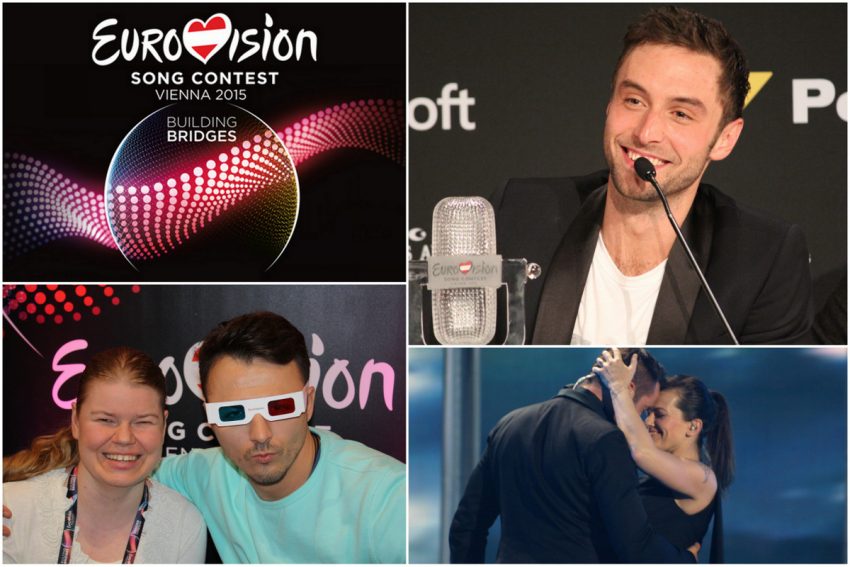 We are soon approaching the 2016 Eurovision Song Contest, but let's not forget last year just yet. We look back at our greatest moments from the 2015 contest held in Vienna, Austria and ask – what stands for you as the best moment?
Looking back at the 2015 Eurovision Song Contest a lot of great things comes to mind. We are probably many who will remember the little cartoon figure in Måns Zelmerlöw's performance for quite a while, or the same sex traffic lights the host city Vienna introduced. Each of us have something which we will remember the contest for. We asked some of our team members spread across the world to share their greatest moments from the 2015 contest.
Charlotte from Denmark:
I learned from 2015 that taste really differs. My absolutely favourite was Daniel Kajmakoski representing FYR Macedonia. I totally loved Autumn Leaves, and meeting him, I fell in love with him as well, such a lovely and charming man. In the press centre however not many shared my feelings, and the TV viewers across Europe unfortunately didn't either. I will never understand why he didn't qualify for the final.
David from Canada:
My favourite moment at Eurovision 2015 was Australia. Fantastic song, fantastic performer, I'm really happy they were well received and will be back this year. It gives me hope, as someone from a country who's never competed that the contest could grow to include Canada one day!
Tommy from Sweden:
This was the first time my country won a Eurovision that I've attended to. Hero wasn't my personal favourite this year, but on that night I felt that Måns deserved to win. And the normally calm myself went emotional for a few minutes rushing around celebrating in Vienna's press centre.
Kevin from France:
My best memory of last year's contest is the Building Bridges videos which connect everybody. When I saw these and heard the music in the background of "What if " (Russia 2013), I had goosebumps. The parts which included kids, adults, etc … with the music made me so emotional and it was at that time, I understood and felt the real power of music which illustrated the importance to create bridges between all of us.
Josef from Czech Republic:
My greatest Eurovision 2015 moment was definitely the whole Eurovision for many reasons. Firstly, Czech Republic came back after 4 years of absence, so I couldn't be happier. In addition, our song wasn't bad at all, so I was really proud of my country. 2015 was also the first year I was present at Eurovision.  After the second semifinal I felt happy even if we didn't qualify, but Marta Jandová came to us from the green room to thank us, it was touching moment. And I had the opportunity to present our fan club in front of all the OGAE presidents and we were accepted as OGAE Czech Republic. So, to be honest, Eurovision 2015 belonged to Czech Republic from my point of view.
Theo from Greece/United Kingdom:
One of the most memorable moments in Vienna occurred when I saw the first rehearsal performance of the Russian entry. A few seconds into Polina's performance, I could feel the impact in the press hall. Admittedly less spectacular than eventual winner Måns Zelmerlöw's staging, it nevertheless proved once more to me that a good performance and aesthetically pleasing staging can make or break a Eurovision entry.
Michael from United Kingdom/USA:
My daughter Lauren made her first trip to Eurovision last year. She instantly liked Loic's song. She started to fan stalk him. In the green room they shouted back and forth to each other. They talked when he left the stage to head to green room. She even caught him coming out of the bathroom. She got interviewed on Belgian tv singing the song. Everywhere she went the Belgian delegation recognized her. I wrote to them when we got home. Loic thanked me for finally putting a name to the girl, what a thrill.
What is your special moment from the 2015 Eurovision Song Contest? We'll be curious to hear from you in the comments below.