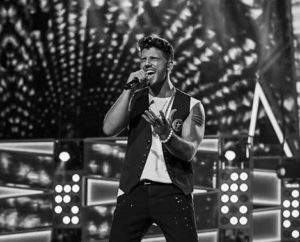 23 year old Greek-American singer who lives in Germany, Sandro Nicolas, will represent Cyprus at next year's Eurovision Song Contest. The young singer was rumoured for Germany as well, but it will be the mediterranean island that benefits from his talent.
In 2018, Sandro Nicolas (Alessandro Ruetten) reached the semi-final stage in "The Voice of Germany". This summer he took part at the New Wave Festival. Sandro's mother is Greek while his father is American – and he himself, he lives in Germany – and is now heading for the Netherlands to represent Cyprus at the 2020 Eurovision Song Contest. The announcement came on broadcaster CyBC's Eurovision page on Facebook. It was also announced that more details will follow in the coming weeks.
For a few weeks rumours have been circling that he was among the finalists in a non televised national selection in Germany. As these names are not publicly available, its unconfirmed. If there is thruth to these rumours, he is however now out of the German selection as a singer can only represent one country at one given Eurovision Song Contest. As he is now confirmed for Cyprus, no other country can pick him for the 2020 contest.
In the video below, you can watch Sandros perform Shawn Mendes' In My Blood at the Blind Audition at "The Voice of Germany":
Cyprus at the Eurovision Song Contest
When Eleni Foureira's Fuego came second at the 2018 contest, it was the best Eurovision result ever achieved for Cyprus. The country debuted in 1981, have had quite mixed results with failing to reach the final six out of the eight years 2006 – 2013.
In 2014, Cyprus didn't take part, but came back the year after – and have reached the final every time since.
This year, in 2019, Tamta represented the country with the song Replay. She finished 13th in the final with 109 points.
At the video below, remind yourself of Eleni's Fuego from 2018 in a live performance from Eurovision Village: