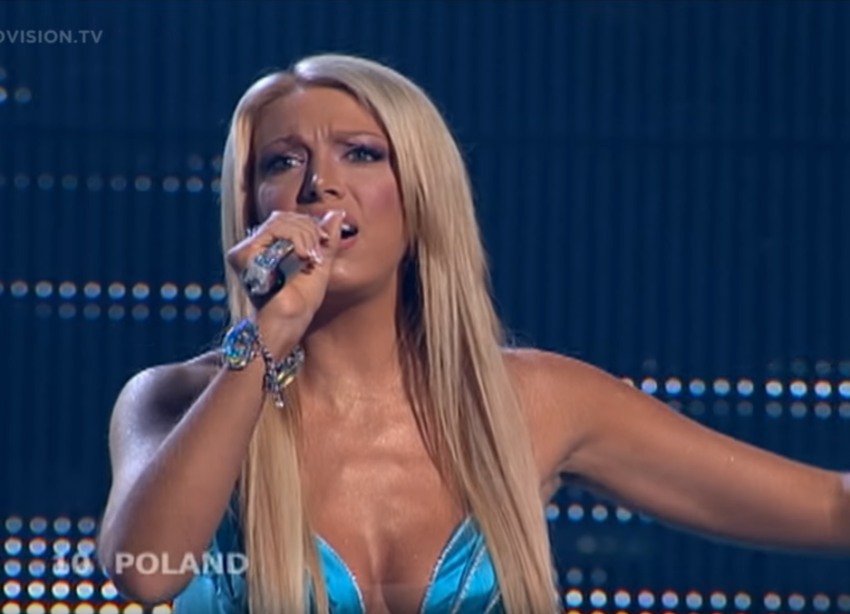 To commemorate this 4th of July we are looking back to the year Poland sent an American artist to Eurovision. At the 2008 Eurovision Song Contest, Poland was represented by Tamara Gee, who went by the name Isis Gee. She qualified to the final, finished in 24th place, but has since expanded her career beyond music.
In February 2008, Poland organised Piosenka dla Europy, their national final for Eurovision. Twelve acts competed in the national final with Isis Gee as the winner. She won both the vote from the Jury and the Televote.
As such Isis Gee represented Poland in Belgrade, Serbia.  Her song, For Life, qualified for the final, but only scored 14 points which gave the country a 24th place. Germany placed 23rd and United Kingdom 25th – both also scored 14 points.
For Life was written and produced by Isis Gee herself.
For Life – opinions from fans
In order to find out what Eurovision fans today think of this Polish entry from 2008, we asked our Eurovision Fan Panel. It includes team members as well as fans from all over the world.
🇲🇹 Christopher D. – I really liked this song way back in 2008. Although I do not usually like ballads, I really thought her song was very beautiful and she had an amazing voice. Her staging was very evocative and strong on visuals. Her last placing was really unfair, gaining only just 14 points. But Poland has a history of undeserved such places and also non qualifiers that were amazing songs. I remember following Isis Gee and buying her new material after the contest. She has a couple of really good radio-friendly songs. Amazing artist.
🇺🇸 Grace W. – Isis honestly sounds like she's trying to copy Whitney Houston or Céline Dion here. For Life has a pretty chorus, but the verses are way too bland and boring. The song is hardcore 2000s; it didn't deserve joint last with the UK and Germany, but what was there to expect? In a relatively sound year, such a song would get lost amid the songs of the night. One of Poland's better entries, but a 5/10 from me.
🇬🇧 🇮🇪 William S. – It's always interesting to see an American take part in the contest and in 2008 we had more than one, but if I'm honest this isn't the best. Isis is a great singer and the song is a simple ballad, but it doesn't have enough dynamism for me and the high note does seem a little forced at the end. Not Poland's best.
🇬🇧 Michael O. – While this song wasn't bad, the teeth and fake tan were the most memorable part of this entry. To this date I haven't a clue what's she's singing, but the tune is nice enough.
🇨🇴 🇫🇮 Alvaro S. – Isis Gee's For Life sounds like a conventional ballad. The problem is that the voice of Isis is not outstanding and the song doesn't have something particularly interesting. On the opposite, it does not seem to go anywhere. It is pretty boring for my taste.
🇬🇧 Ashleigh K. – I watched the 2008 for the first time recently as I missed the original viewing due to going on a date. I really enjoyed the performance from Poland, a country who never usually stand out for me at Eurovision. Isis Gee gave a wonderful performance with good vocals. I couldn't believe that she had been placed so low in the voting. She was definitely worthy of a top 10 place that year.
🇨🇿 Josef S. – Isis Gee is a very beautiful woman and that's something that helps when paired with a good song. For Life is not a song that stands out, but it is sung with a lot of emotions and Isis is a good performer. I would put the whole performance among the better half of Eurovision 2008.
🇬🇧 Paul G. – Fantastic singer, beautiful song and my number 2 from 2008.
🇵🇭 Vance T. – For Life by Isis Gee spells Disney everywhere. It gives a Disney-like aura around it, the way it was sung. The music arrangement, it sounds like a song out of a Disney movie.
It was good, it's sung on point. As for it's placing in the Grand Finals, I think it was a bit underrated. Should have been higher, bottom 5 is too low for this song.
🇩🇰 Charlotte J. – Unfortunately this is dreadful, in my ears. I find the song boring, her singing isn't good and she is like a stiff Barbie doll with no emotions. I like the music in the background, but that's not enough to make up for the bad impression, I am left with.
🇮🇪 Paul K. – Wow, I really like this song! I don't think there is anything like it tbh, so it definitely has the uniqueness! However, it isn't a song that I would keep listening to over and over again! It's a song that I'd listen to once, like it, and then the next time, not so good. Nonetheless, a pretty good entry from Poland which earns a 6/10 from me.
Enjoy Isis Gee's performance from the 2008 Eurovision Song Contest in the embedded video. Below the video, you can read more about Isis Gee.
A mini Biography to Isis Gee
Tamara Diane Wimer, better known as Tamara Gee was born in Seattle, Washington in 1972. She represented Poland in the Eurovision Song Contest 2008 as Isis Gee. Tamara is a singer, songwriter, producer, model and entrepreneur. As a singer, she has appeared on The Oprah Winfrey Show.  A total of six studio albums has been released. The latest album is Love, Tamara from 2014, but more is on the way. According to a Facebook publication from 7th of June, she is currently working on new music.
Tamara Gee has embarked on different entrepreneurship apart from her music career. She is the co-founder of NEBU Milano, an Italian Cosmetic brand. On her own YouTube channel she promotes her brand and make tutorials for her fans.