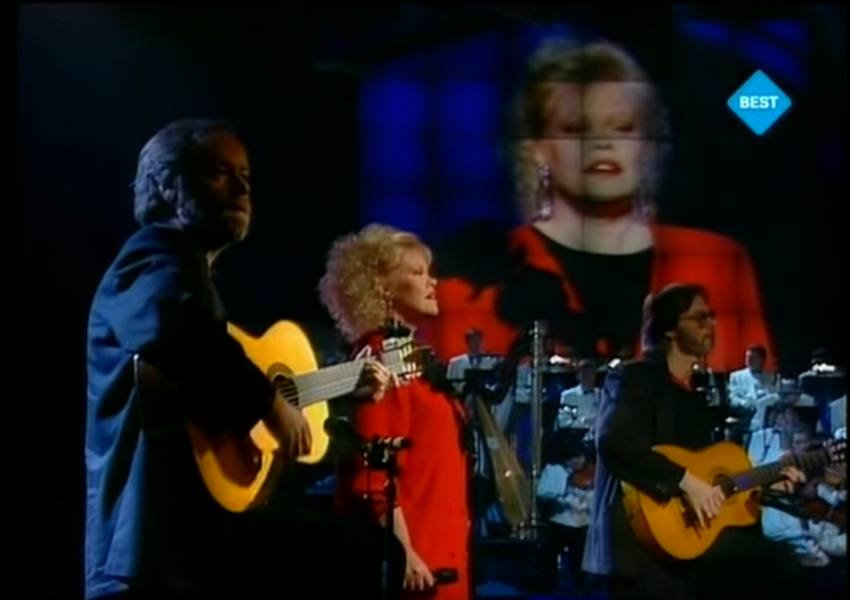 In 1989 Anneli Saaristo represented Finland at the Eurovision Song Contest in Lausanne. She waved the Finnish flag with an unorthodox formula: a song with a Mediterranean sound, yet with Finnish lyrics. Her experiment was successful.  She came in seventh place.
For the 1989 Eurovision Song Contest, Finland held a national final. Anneli Saaristo won the final in February 1989. This was her third attempt to represent Finland.
At the Eurovision Song Contest, La Dolce Vita finished in 7th place with 76 points. This was the best result for Finland in 14 years. Furthermore, La Dolce Vita was Finland's last top 10 result until Lordi's victory in 2006.
La Dolce Vita is written by Turkka Mali.
La Dolce Vita – opinions from fans
In order to find out what Eurovision fans today think of this Finnish entry from 1989, we asked our Eurovision Fan Panel. It includes team members as well as fans from all over the world.
🇬🇧 🇮🇪 William S. – There are just some entries in Eurovision's history that creep up on you when you least expect it and get under your skin. Can I tell you why I love this song? Not really, I mean Finland have taken a lot of influence from around the continent past entries have had Influences from Greek and Swedish cultures and this taking its title from a famous Italian movie. Annelli's voice is deep and brooding which suits it perfectly. Should have done better in the final results.
🇩🇰 Charlotte J. – I'm sorry, but I really can't seem to connect to this one. It's fine enough to listen to, but I am in no way feeling it, and as the song finishes, I have no idea what I have just been listening to.
🇫🇮 Martti I. – La Dolce Vita, simply a perfect title and entry for Finland. Performed with style and professionalism so the whole nation was pleased. It became a huge hit, an evergreen. Personally I could not be more happy for our great placing, in Finnish especially.
🇬🇧 Michael O. – When I first heard this, I thought typical Finland has no idea what it takes to win Eurovision, but actually on the night, this was an actual stand out. Due to it being totally old fashioned in 1989, in 2020 the song really hasn't dated much, and is still a pleasant enough listen.
🇹🇷 Günec N. – One of my favourite Finnish entries. Very elegant and classy. I love the Latin sound and Anneli's characteristic voice and performance.
🇦🇺 Michael R. – There's something instantly beguiling about this song, you can't help but like it. However the staging feels off, she's too stationary for the joyful atmosphere this song requires.
🇬🇧 Ashleigh K. – This song was before my time as a Eurovision fan, in fact I was just a baby when this song represented Finland at Eurovision. Now I'm listening to it I find it so hard to believe that it is a Finnish entry, if I was a betting woman I'd put money on this being an Italian or even Spanish entry. It's very nice and it's sang well… I just find it so odd that this is from Finland!
🇨🇴 🇫🇮 Alvaro S. – A Finnish song with an Italian title and a Spanish sound? Sounds like a strange salad but the result is amazing. La Dolce Vita has this distinctive, likeable sound.
🇪🇸 Alexander S. – In 1989 Finland chose Anneli Saaristo, she sang La Dolce Vita. A song which does not sound Finnish at all but Spanish, the performance even included a Spanish guitar. When you hear the song you can feel the Spanish beat/flavour… I find this very original, but lack of identity. The Spanish jury awarded them 7 points.
🇬🇷 🇬🇧 Theo V. – A delight. Finland can do flamenco to a beautiful effect as proven by this well crafted song, complete with Spanish guitars and a dramatic orchestral bridge that could have come straight out of a bullfighting arena. Anneli's voice matches the genre and both her and her flame-haired backing singer cut iconic Eurovision figures. Well-presented, too, with classy restraint accented by occasional details such as flamenco clapping and Anneli's dramatic head move at the end of the performance.
🇫🇷 Bernard D. – La Dolce Vita is a nice song. Anneli Saaristo has an excellent voice and I like this musical style. Strangely I don't really get it. It still a medium song for me 6/10.
🇨🇿 Josef S. – I like surprises at Eurovision and this is definitely one of them. Such a song would be expected from Spain. For sure not a typical song from Finland. Very attractive voice that could have fit also Portuguese fado style songs. The southern energy is perfect and the whole package appeals to me very much. A new discovery, and this one is really good.
Enjoy Anneli Saaristo's performance from the 1989 Eurovision Song Contest in the embedded video. Below the video, you can read more about Anneli Saaristo.
A mini Biography to Anneli Saaristo
Anneli Saaristo was born in Jokioinen in 1949. She is a singer and actress. As an actress she has worked on television, theater and films. In 1983 she received the Best Female Solo Artist award at the Knokke Festival.
When she won the Finnish national final in 1989 and as such represented Finland at the Eurovision Song Contest, it was her third national final attempt. At Eurovision, she finished in 7th place.
In 2011, the Finnish government granted her an artist pension. However, she is still active and takes part in concerts regularly. In a recent interview, she said that due to her age and health condition she had to stay at home because of the Coronavirus pandemic. Nevertheless, she is scheduled to go back on stage starting in December 2020.