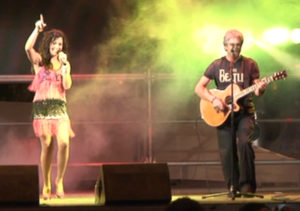 Madrid's Gay Pride Festival is back one more year in the city centre. As usual, the festivities began with a special concert by a selection of performers from pop artists to electronic rhythms. Former Spanish Eurovision entrants, Lucía Pérez and the boyband D'Nash were among the 8 artists who performed on the Plaza de Callao's stage.
Hundreds of people were gathered last night in the square when Romy Low opened the show around 21:00 with her performance. Afterwards, it was the turn of the first artist of the night related to the Eurovision Song Contest, Gio. You should remember Gio because he took part in this year's national semifinal called Destino Eurovisión. He wore a white shirt and three quarter jeans but the most original part of his attire were his pink socks reaching almost to the knee and, of course, his characteristic cassette tape hanging from his neck decorated with the colours of the gay flag.
With his own videoclip on the LED screen Gio started his performance with the song called Sunglasses as well as the title of his first album (Mentiras, Sexo Y Gafas De Sol) that will be launched next week. In the middle of his performance, five backing dancers appeared on the stage wearing t-shirts in the colours of the gay flag. They had an amazing choreography, quite well coordinated with Gio's movements on stage. He sang a total of five songs, like his own version of I Wanna Dance With Somebody from Whitney Houston, Mojito, Drama (one of the most chanted by the audience), It Is True and, finally, his version of Satellite that we heard last in February in Destino Eurovisión. It is a version totally different to the original with which Lena won the 2010 Eurovision Song Contest. Gio added some verses like a rap and with some references to La, La, La, the song performed by Massiel and winner in 1968 Eurovision Song Contest giving an adorable vintage touch to the song.
It is impossible to leave Gio's music on as background entertainment. Even first-timers who have never heard him before find themselves drawn in. Then, it was time for the performances of Walden Uno, Shara and Atacados.
At 22:30, Lucía Pérez was the second artist related with the Eurovision Song Contest to take to the stage. The moment that Eurofans at the Plaza de Callao had been waiting for finally arrived. Lucía appeared on stage with her inseparable Chema Purón who is at the same time her producer and writer of most of the songs on her last album called Cruzo Los Dedos. Last night, Chema was also her backing singer and guitar player for the four songs that she sang. Lucía, in a pink and black fringed dress, arrived on stage together with a famous drag queen who introduced her to the audience. Then, she performed three of the songs that we can find on her album: Probablemente, Quién Te Crees Que Eres and Tu Silencio. Finally, she performed her Eurovision entry Que Me Quiten Lo Bailao. The audience was very enthusiastic dancing the choreography and singing the chorus.
After Lucía's performance it was time to listen to the much anticipated boyband D'Nash. They were the Spanish representatives in the 2007 Eurovision Song Contest in Helsinki. When we met them four years ago, they were a band of four boys but soon after the contest one of the band members left the band to pursue a solo career so today they are a trio composed of Basty, Mikel and Javi. They appeared on stage wearing casual clothes and started singing the song called En Medio De La Calle that is the first single of their new album titled Garabatos. Their clear vocals were accompanied by some great harmonies, beats and rhythms, a dynamic blend of sounds and harmony in a song sung with great concentration and feeling. On the LED screen in the background, we could watch some images of the video clip and a documentary that we also can find on their CD.
The next song was No Quiero Verte and the boys treated us to a very energetic presentation, with good use of the stage and their voices complemented each other perfectly. I Love You Mi Vida was performed shortly after, with the crowd singing along to just about every song. They started with the chorus sung acapella and after that they sang the entire song. They said goodbye to the audience by announcing that they continue their musical tour and this week they will travel back to Helsinki and finally, they encouraged everyone, visitors and locals alike, to enjoy the party to the full and to take part in the event.
You can find videos from the concert at our YouTube channel, but below is three of the performances. First D'Nash's new single En Medio De La Calle, then Lucía Perez's Que Me Quiten Lo Bailao and then Gio's cover version of Germany's winning song Satellite. When you go to our YouTube channel to watch the rest don't forget to subscribe to our videos in order to make sure you get updated on our latest videos.