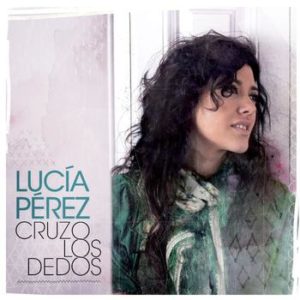 This is her fifth album and its title, Cruzo Los Dedos (I Cross My Fingers) is a call for good luck. It includes the song chosen for the 2011 Eurovision Song Contest Que Me Quiten Lo Bailao and Abrázame, one of the three songs that Lucía performed in the national final of Destino Eurovisión.
This new album released by the multinational label Warner Music will serve as Lucía's presentation nationally and internationally and, with good reason, she and her producer, Chema Purón, have decided to include a selection of the best songs from her previous albums. One of them is the romantic ballad Cruzo Los Dedos which gives its name to the album, that was already on her third album called Volar Por Los Tejados (Fly On The Roof) and it was also translated into the Galician language for her fourth album Dícholo En Galego.
Adeus Ríos, Adeus Fontes is another song that is very common to hear from Lucía. The track is inspired by the poem written by Rosalía deCastro who became known as Amancio Prada. It is sung in Galician language and it is an emotional tribute to her homeland.
This album also include a new version of the song Este Amor Es Tuyocomposed by Chema Purón with wich the popular singer Gisela (Andorran representative in the 2008 Eurovision Song Contest) won the 44th editionof the 2003 Viña del Mar Festival in Chile.
The graphic design of the album was done by Boamistura. They are a groupof innovative artists with a great talent who are well known in the world of creation and artistic design.
The promotion of this new album will include meetings with fans where they can buy the album dedicated and signed by Lucía and acoustic shows in different shopping centres from Vigo, Santiago de Compostela, Lugo, ACoruña and Madrid.
It is an intelligent and good selection of songs with a great variety of styles. Probably, after hearing Cruzo los dedos,the audience will want to know more about Lucía Pérez who has been overeight years working with passion and constant effort on the music business.