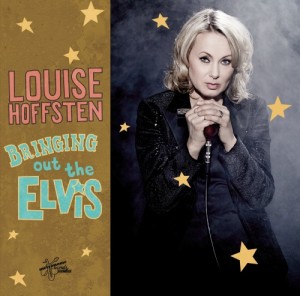 In Melodifestivalen she stated that "only dead fish follow the stream" and now Louise Hoffsten is making it clear that she is anything but one to follow the stream. She released an album today with 12 Elvis Presley songs, all of them of course recorded in Memphis.
Bringing Out The Elvis is the title of the new Elvis Presley cover album by Louise Hoffsten, but if the title sounds familar to you, it might be because it is also the title of a song which Louise wrote to American singer Faith Hill. It featured on her album Breathe from 1999.
Louise went to Memphis to record this new album, and it is not the first time the active singer and songwriter visits the states. Over the years she has gained a lot of inspiration within blues, and previously recorded albums in USA. Despite diagnosed with Multiple Sclerosis, Louise has over the years released more than 15 albums. 
On her website Louise writes about the recording of these Elvis songs: "I have long had a dream about singing and recording this material. I have grown up with theese songs from the 1950's and early '60's. Now, I am taking them back". 
Track list for Bringing Out The Elvis:
1. Tryin' To Get To You
2. A Mess Of Blues
3. Just Pretend
4. King Creole
5. True Love Travels On A Gravel Road
6. Mystery Train
7. So Glad You're Mine
8. Love Me
9. Put The Blame On Me
10. When It Rains It Really Pours
11. It Feels So Right
12. Heartbreak Hotel
You might also like to read:
Louise Hoffsten took part in Melodifestivalen 2013 where she qualified for the final and ended 5th with the song Only The Dead Fish Follow The Stream.