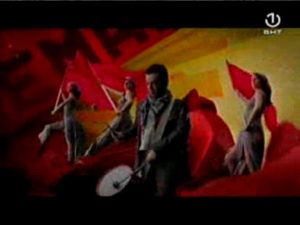 An internal jury has selected the group Regina to represent Bosnian & Herzegovina at the 2009 Eurovision Song Contest. Tonight their song Bistra Voda will be presented to the public in a big show that features several of its competitors in Moscow.
The song Bistra Voda, which translates to Clear Water, was chosen among 79 submitted entries. It is written by Aleksandar Čović and will in Moscow be performed by the group called Regina. It consists of four men from Sarajevo and was formed in 1990. The group split up after their second album, but got back together again in 2006 for their third album which became such a big success that they have stayed together as a band since.
The show tonight will start at 21:00 CET and include performances from Sakis Rouvas who is representing Greece, Chiara who will be competing for the third time for Malta and they Turkish representative Hadise.
Official site Eurovision.tv will be providing a web stream for the show which can also be followed live here on EuroVisionary.
–coveritlive-7c950ab075
The live performance of Bistra Voda from the show is now available to watch below.
Links