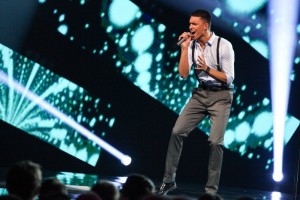 Today the Lithuanian broadcaster announced the final results of last Saturday's Eurovizijos edition. As they assumed irregularities in the televoting the announcement of the results was postponed and not as usual at the end of the show. Martynas Kavaliauskas was eliminated, the four other artists will perform again next Saturday.
Last Saturday the 8th round of the Lithuanian preselection Eurovizijos took place. The five remaining artists performed each two songs. Four acts should proceed to the next round, but as the Lithuanian broadcaster LRT assumed irregularities in the televoting, the announcement of the result was postponed until today.
As it was reported it was the right decision as they actually discovered that Martynas Kavaliauskas had received an irregular number of 677 votes. This means that Martynas was not only last in the jury vote , he also finished at the bottom of the televoting. While Monika Lynkite was the jury's favourite, she only came 4th in the televoting which was won by Mia.
So these are the four acts that will proceed to the 9th round of Eurovizijos:
Monika Lynkite


Mia


Vaidas Baumila


Vilija Matačiūnaitė
You might also like to read:
8th round of Lithuanian Eurovizijos – five acts and technical problems
NDR reveals the 10 candidates for the 8th spot in the German final