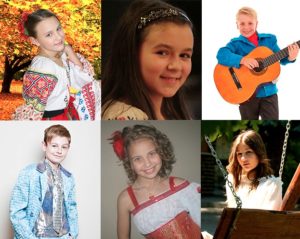 Out of all the entries received by TRM until the submission deadline just six of them will get the chance to participate in the final of the Moldovan national selection for the 2012 Junior Eurovision Song Contest. Whether the final decision will be public or internal is not confirmed yet.
The Moldovan public broadcaster launched the national selection with an open call for entries in mid-August and it was extended to September 14 considering the few candidates who had submitted their songs at the first deadline date set for the 10th of September.
Finally, the names of the six candidates who have made it to the final to represent Moldova at the 2012 Junior Eurovision Song Contest have been revealed and they are:
Nadejda Volc – Eu Cred (Believe)
Cătălin Cauș – Libertate (Freedom)
Ecaterina Lisin – Încearcă
Alina Sorochina – Între Nu Si Da
Denis Midone – Toate Vor Fi (All Will Be)
Andreea Braga – My Lucky Light
One of the most popular among the candidates is Cătălin Cauș who was one of the participants at the junior talent show called Ring Star and another familiar face is Alina Sorochina who is not a newcomer to the Junior Eurovision selection since last year she tried to represent Moldova with Despre Tara. You can listen to all of them online on the official Moldovan broadcaster website.
This will be Moldova's third Junior Eurovision Song Contest since they debuted in 2010 and in the past two years they have chosen their entry through both a televised show as well as internally and no information on whether this year's national selection will be televised is confirmed yet.
Last year's Moldovan representative was Lerika, who ended up sixth in the scoreboard and who is back again to the competition but this time she will be representing Russia.
While nothing is decided yet, so far, according to the Facebook like button, Denis Midone seems to be the favourite to wave the Moldovan flag in Amsterdam. You can see him singing his entry in the video below.