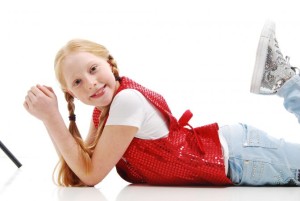 The final of the national Russian selection took place today and Lerika won the privilege to perform at the Junior Eurovision for the second year in a row. In 2011 she represented Moldova singing No, No achieving the 6th place and this year she will be there for Russia with the song Sensatsiya.
Russia has been the first country to select their song for the 2012 Junior Eurovision Song Contest which will take place in Amsterdam on December 1. Live from the Akademicheskiy concert hall, the show featured twenty participants and it was hosted by Oxana Fyodorova and Dmitry Guberniyev.
As special guests of the show there were last year's Russian representative Ekaterina Ryabova singing together with Erik Rapp (Sweden 2011) and Buranovskiye Babushki who performed their 2012 Eurovision Song Contest entry Party For Everybody together with all the participants at the beginning of the show.
Below, you can see the participants of the competition in the show running order and the results:
1. Band Sorvantsy – Idut Geroi Kino (Heroes Of Movies Are Coming) 8,12
2. Nal'giyeva Lyoma – Moya Mechta (My Dream) 8,57
3. Boldareva Aleksandra – 12345 (Pro Mechtu) (About A Dream) 5,88
4. Band Akademija Volshebnikov – Shag Navstrechu Solntsu (Step Towards The Sun) 2,72
5. Pomarkov Ivan – Raz, dva, tri (One, Two, Three) 8,35
6. Sementina Alisa – No Baribe, No Ken! 3,64
7. Lerika – Sensatsiya (Sensation) 12,34
8. Bogdanova Vladlena – V Dvuh Shagah Ot Mechty (Two Steps Away From The Dream) 3,17
9. Renata – Angel 4,19
10. Smidovich Ivan – Pervaja Lyubov (First Love) 2,96
11. Band Tonika – Zdravstvuy, Solntse (Hello, The Sun) 3,85
12. Shorohova Elizaveta – Ya Naidu (Svoyu Zvezdy) (I Will Find My Star) 1,94
13. Bon Su Hyon – Evro, Evro (Euro, Euro) 3,22
14. Shkunov Evgeniy – Mama, Ty Eshyo Molodaya! (Mom, You Are Still Young!) 2,59
15. Band Delfin – Hip Hop 7,23
16. Matveyeva Vasilisa – Strannyy Kot (Strange Cat) 5,58
17. Kirillova Dayana – Pyat' Minut Du Oroka (Five Minutes Till Lesson) 9.04
18. Morozova Alina – Devochka-Vredina (Mean Girl) 2,86
19. Kulesh Christina – Superstar 2,37
20. Myshkaryov Aleksey – Tebe daryu! (I Present To You) 1,38
Valeriya Engalycheva, also known as Lerika, who is 13 years old, holds double Russian and Moldovan citizenship which allows her to compete this year for a different country and that is why she has been selected to represent Russia in the 2012 edition of the contest becoming the first singer to represent two different countries in Junior Eurovision.
So far, Armenia, Belarus, Belgium, Russia, Sweden, Ukraine and host country The Netherlands have confirmed their participation in the 2012 Junior Eurovision Song Contest.
You can listen to her winning song below as it was performed in the national final where she was joined by members of Domisolka Band.