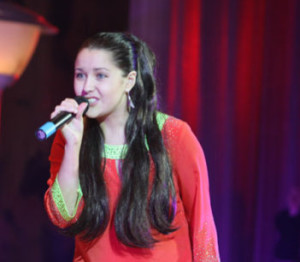 Lidiya Zablotskaya represented Belarus at the 2011 Junior Eurovision Song Contest with Angely dobra (Angels of good). Now Lidiya has grown up a lot since those days and she is about to release her new song in an almost aggressive rock style. Totally different to her image and song from 2011.
Lidiya Zablotskaya sang Angely dobra at the 2011 Junior Eurovision Song Contest and impressed the watching public and journalists with her mature and crystal clear vocals. The song was a charming ballad with a striking melody.
Since the years have passed since Junior Eurovision, Lidiya has continued to mature as a grown up teenage girl with her music and also continued with her studies.
Lidiya has had big successes by winning top prizes at the music festivals in Russia and Bulgaria. She has also performed at several concerts in Belarus and Russia.
Now Lidiya has about to release a new song with a rock sound. This is totally different to the sweet melody of her Junior Eurovision song. But Lidiya is keen to explore different musical styles. Rock is the sound she is currently engaging.
Lidiya is also studying to be a journalist and wants to write about music. She will learn about the other side of the music business where she will write about artists and their music and concerts.
Lidiya is keen to represent her country at the Eurovision Song Contest in the future. She told EuroVisionary that she takes the Tolmachevy Sisters as a great example for all previous Junior Eurovision participants that it it possible to succeed and take part in the main Eurovision show.
As soon as Lidiya's new music video is available you will see it here but in the meantime you can see her performance of Angely dobra at the 2011 Junior Eurovision Song Contest below. 
You may also like to read –