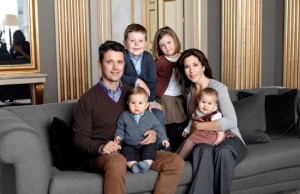 Today it was announced that the crownprince couple of Denmark will attend the grand final of Eurovision Song Contest on the 10th of May, but also the family rehearsal for the second semi-final two days earlier. Crownprincess Mary has Australian background and in that semi-final Australian Jessica Mauboy will perform.
For the final of this year's Eurovision Song Contest Danish crownprince Frederik and his wife, crownprincess Mary, will be among the audience to see the show live from B & W hallerne. Crownprincess Mary will also, together with some of their four children, attend the family rehearsal for the second semi-final.
Crownprincess Mary is of Australian origin – and in the second semi-final Jessica Mauboy, from Australia, will perform as interval act.
Crownprince Frederik and Mary Donaldson, as was her name before they got married, met during the 2000 Olympic Games held in Sydney, Australia. They got married in 2004 and today they have four children; prince Christian, 8 years old, princess Isabella, 7 years old and the three year old twins, prince Vincent and princess Josephine.
You might also like to read: