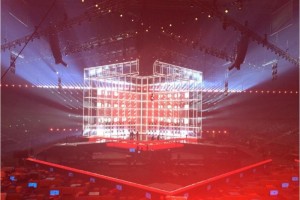 Yesterday the stage for this year's contest was revealed, and today, host broadcaster, DR revealed more details about the interval act for the final: Eurovision Song Contest 2075. Involved in this performance are two former national finalists.
Fans and others with a good idea have been encouraged to submit their Eurovision interval act suggestions with the so-called #MyEurovisionIdea campaign, and one of them came from German fan Thomas Majers. He suggested that instead of looking back, as often done at Eurovision, they should look forward. DR took that idea and as a part of the interval act for the 2014 Eurovision Song Contest we will see: Eurovision 2075.
Theatre instructor Nikolaj Cederholm, who will be instructed it, says that it will be done as a theatre concert and adds: "It is perfect for Eurovision. It is characteristic that people will lifted after seeing one of our performances – there is something life confirming in it, and that will also be the case this time".
On stage Eurovision 2075 will be carried out by Jimmy Jørgensen, Claus Hempler, Bjørn Fjæstad, Mark Linn, Annika Aakjær and Louise Hart. Two of them are former national finalists in Denmark; Mark Linn took part in 1996 with the song Røde Kinder and in 2009 Jimmy Jørgensen sang Alice In The Wonderland. 
The 2014 Eurovision Song Contest kicks off on the 28th of April with the first rehearsals and press conferences, and it ends with the big final on Saturday the 10th of May.
You might also like to read: 
Follow our Danish language course #LearnDanishForEurovision: