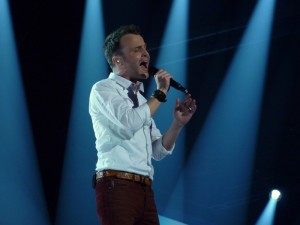 Today DR presented Bryan Rice as host for the 2014 Eurovision Village. Together with the presentation followed a programme including performances from 23 of this year's participants. Eurovision Village is this year located in the centre of Copenhagen and is open to the general public.
There will be no excuse for being bored in Copenhagen in the two Eurovision weeks:
From Monday the 28th rehearsals and press conferences starts at Eurovision Island at Refshaleøen. The same day Euro Fan Café opens in Huset- KBH and in the evening Euroclub, placed in Vega kicks off offering parties every evening.
In the period the 4th of May to the 8th of May Eurovision Village will also feature lots of performances from this year's participants – and it will be hosted by Bryan Rice, who will most likely also get to sing himself.
Eurovision Village is located at Gammel Torv, in the centre of Copenhagen. Their schedule, published by DR today, is as follow:
4th of May:
13.00: Australia- Jessica Mauboy
14.15: San Marino
14.45: FYR Macedonia
15.30: Latvia
16.00: Switzerland
16.15: Malta
16:30: Albania
5th of May:
14.00: Romania
14.30: Austria
16.00: Belarus
16.30: Lithuania
17.45: Spain
6th of May:
16.00: Poland
16.30: Georgia
7th of May:
15.30: Iceland
15.45: Sweden
16.15: Belgium
16.30: Moldova
17.00: Estonia
17.15: France
18.45: Hungary
8th of May:
15.15: Portugal
16.00: Ukraine
16.30: Denmark
The schedule is preliminary and more acts can still be added. 
Bryan Rice, who is host of Eurovision Village this year, has taken part in Dansk Melodi Grand Prix a total of four times, twice as a songwriter only and twice as artist. The first of the latter being in 2010 where he came second with the song Breathing and then again here in 2014 with I Choose U. 
You might also like to read:
Follow our Danish language course #LearnDanishForEurovision: