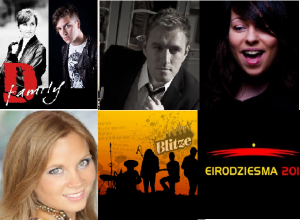 Blitze, Grupa Pieneņu Vīns, Evija Sloka, Jānis Stībelis and D-Family were the first five acts to be given their tickets to the final of Eirodziesma tonight.
Latvia got their season underway tonight, with the seaside resort of Ventspils playing host to the event as in previous years. LTV had decided to return to the format of previous years by holding the first of two semi finals; last year's selection was a much more sober affair, with only one final due to financial problems.
Guntars Račs was involved as a composer with not one but two acts tonight, so he was clearly hungry for a spot in the final on the 26th of February. It was also poignant to see Blitze perform the entry Hop, written by the late Mārtiņš Freimanis, knowing that
this would be his last entry to Eirodziesma.
The songs: (read more about the participants in our presentation) 
Song 1: Blitze – Hop (Mārtiņš Freimanis)
Ah, this will no doubt tug at the heart strings of many following the recent and shocking death of composer Mārtiņš. At times, the voice of the male singer sounds uncannily like that of Renars Kaupers (Brainstorm). The melody has all the trademarks of Freimanis' craftsmanship – guitar led, a punchy, jangly chorus, and the overall sound could best be described as slightly quirky and very jaunty. Has a lot going for it and will no doubt gain from being first on the stage. Dressed in a mixture of suits, bow ties and tutus, the groups choice of outfit can best be described as eclectic. With a backdrop of many backlit screens in changing colours, the stage looked very modern. The number had it's own gimmick too, when the words hop, hop, hop made the group jump up and down on the spot! Sung in a mixture of Latvian and English, it was a vibrant performance. 
Song 2: Dace Upīte & Nikolajs Puzikovs – It's Not Easy (Māris Elksnis/Līga Markova)
Dace & Nikolajs provide us with the second male/female combo of the evening. Things start of promisingly enough, before everything explodes into a bombastic ballad, with a cliché ridden text. Fans of the key change will be kept happy, as there are plenty of those, but that is all this dreary number has going for it. Simply has nothing new or different to offer to the listener. A spartan, dimly lit stage provided the backdrop for the first of tonight's duets. Dace dressed in an elegant, simple white dress and Nikolajs wearing a black tuxedo with sequinned lapels. Their performance was competent enough, but their voices were completely lacking any emotion, and although their hands touched mid performace, the clear lack of chemistry was evident, making it look more like a sing off between the two.
Song 3: D-Family – Daylight (Andris Freidenfelds/Ģirts Lūsis/Normunds Jakušonoks/Valdis Čirksts)
From the first tones, you hear that this is a heavily synth led euro-dance tune. It has a lethal chorus which gets straight into your head and stays put. The voices of the male/female duo suit each other perfectly. Extremely danceable, this will no doubt have many dancing round their handbags in Riga discos. Trombone and a trumpet provided the intro to this jumpy number, with a somewhat oddly suited couple taking to the stage. The male singer looked considerably more youthful in streetwise clothes all in black, while his female partner was dressed in what looked like a black ballgown. The song itself was very jolly, and had an infectious chorus. Both sang extremely well, and made for a great live experience, although the composition of the 6 members of the group was strange indeed. Despite visual styling blunders and rather static choreography, this was definitely one of the stronger numbers of the night. Perhaps one of the more typical Eurovision entries of the evening.
Song 4: Ineta Rudzīte & Uldis Timma – Walking On My Tiptoes (Andris Riekstiņš/Krišs Riekstiņš)
Yet another male/female duo but this one has a saxophone intro! relying heavily on the piano, this number is unfortunately hopelessly outdated, and would be more likely to be heard in an after hours disco being sung by the house band on a ferry between Helsinki and Tallinn. So cheezy, it should have fondue in the title. The song just doesn't cut it compared with the first few acts of the night. Purple lighting, with a bizarre inflated bouncy castle object in the middle of the stage made for a memorable setting. The outfits added to the experience with Ineta dressed in a turquoise tutu and white jacket, Uldis wearing a silky turquoise shirt and white wasitcoat. Four dancers provided the comic relief in the background, sometimes coming into the foreground and interacting heavily with the duo. Although vocally flawless, the number was just as outdated as the studio version. Visually very entertaining.
Song 5: Sabīne Berezina – Let Me Be (Ingars Viļums)
The first ballad of the night is the accoustic Let Me Be. Her voice sounds much more worldy than her actual age, and is extremely pleasant to listen to, with clear aspirations to Mariah Carey, sounding scarily like her in places. The song itself is harmless enough, but does veer toward the saccharine laden variety towards the end, and a banal text doesn't enhance it any further either. Not a bad effort, but far from the best on show tonight. Another dark stage setting for this tender ballad. Sabīne gave a very emotive performance, with plenty of eye contact with the camera. Her 3 backing singers in the background meant that the stage went unused. Dressed in a floor length silver peackock patterned gown, she sang confidently, the song coming across much better than the studio version. Perhaps a little too sleepy though to attract the most votes.
Song 6: Grupa Pieneņu Vīns – You Are (Jurijs Koškins/Evilena Protektore)
Funky from the offset, singer Evilena has a voice that you can just hear would suit jazz perfectly. Racy, quite slinky as she whoops and trills this hommage to the one that makes her feel the way she does. A very pleasant surprise that many no doubt will enjoy getting acquainted with. Slightly reminiscent of Laura's Addicted to You from 2002 in vibe. One of the better offerings of the night, which actually makes you sit up and take notice. Black and silver were the lighting colours for the next number, which nicely complemented the singer's black dress with multicoloured dress. The guitarist was wearing a crash helmet for some unknow reason, which was slightly offputting. A playful performance, Evilena was obviously at home in front of the camera, smiling and flirting. Great performance and it could easily hold its own against the studio version. One to watch. Loved the giggle at the end!
Song 7: Evija Sloka – Don't Stop The Dance (Māris Sloka/Artūrs Palkevičs/Guntars Račs)
Yeehah! Evija will no doubt get many male votes as she is very photogenic. Her song is another that is bordering on the childishly simple, and at times crosses into Shania Twain territory with country twangs and even an appearance from the fiddle. Catchy enough and should do well, just wish she wouldn't sing the word "boogie". The song would have been even better, had it been spared the horrid electric guitar solo mid way. Youthful Evija wore knee high black boots and a silver dress, looking more like a sixties pastiche but set off very effectively by the purple background. Accompanied by two guitarists and a backing singer, the number was appealing enough, if a little stiff. Despite the country sound, the singer needed to thaw up a little bit. Vocally, everything was fine and she ended up playing one of the guitars herself! Could appeal to many voters.
Song 8: Jānis Stībelis & Band – Let It Be Me (Jānis Stībelis)
Jānis' slightly husky voice carries the tune of Let It Be Me nicely, a competently written piece of pop that flows along very smoothly. A strong, radio friendly chorus, and Stevie Wonder harmonica too, something not heard since Eurovision 2001! Though not a dance track, the song is definitely uptempo, whose only downside is the way it suddenly fizzles out at the end. Interesting. Another sombre setting, with purple being the main colour once more, but things soon brightened up! A full band were on stage, with backing singers looking like they'd fled from the 50's, complete with sunglasses. Jānis obviously fancied himself as a bit of an Elton John, opening the number seated at a grand piano. Came across as a dynamic, humourous performance and he was quite the showman. A good, all round entertaining act.
Song 9: Ģirts Zebuliņš & Atis Zviedris – Rough Enough (Andris Barons/Atis Zviedris)
Wow! Eirodziesma certainly starts off with a bang with this number. Although not tobeverybody's taste, this track oozes attitude in a gangsta in the hood kind of way. Whobknew they could produce something like this in Latvia? Quite aggressive, soulful in places and with loads of street cred, good on LTV for bringing something so modern to the table. The duo were dressed as though they were going to a youth club on a friday night! With leaps and bounds across the stage and pogo jumping as well as Bob Dylan style flash cards, the act certainly had energy in abundance. Vocally quite powerful but came across as rather messy on screen. Perhaps not mainstream enough to appeal to the masses.
Song 10: LieneCandy – Love Is Like An Aeroplane (Gints Stankevičs/Guntars Račs)
Guntars Račs is one of Latvia's most prolific songwriters, having written Latvia's Eurovision entries in 2010, 2006, 2004. Could he also do it this year? Well, the song itself is of good pop pedigree, has enough going on to keep the listener occupied while it lasts, but has no stand out qualities. LieneCandy does a good job vocally, but it all sounds a bit too constructed. Cool blue was the stage colour for the final act, with LieneCandy wearing in a white tafetta creation with black belt, backed by five female singers dressed in what looked like Christmas outfits. One of the few acts tonight with clearly rehearsed choreography, it did affect her vocals slightly, but did not detract from the overall impression of the song. A good, upbeat number with an uplifting chorus.
The show:
LTV studios hosted the first of four in this season of Eirodziesma. The second semi final will be held on the 12th of February, with a second chance round on the 19th of February before the grand final on the 26th of February. Hosts Uģis Joksts and Valters Frīdenbergs accompanied us through this evening's 10 acts. Both hosts were dressed were dressed in casual, contemporary attire – Valters, although looking considerably more mature now, you may recognize as one half of the duo Valters & Kazha who sang for Latvia in 2005 coming 5th with The War is Not Over. The opening was set in a TV studio type setting, giving more the impression that it was a Saturday night sports show! The show itself seemed a little flat, given that there obviously was no audience present. A female guest gave her impressions and comments on each number, lost on those of us not fluent in Latvian. LTV were obviously keen to cut corners in the production and keep costs down.
The voting:
The votes ticked in as the programme progressed, with a quick glance at the incoming televotes showing that at the beginning, Blitze and Hop were leading by a clear margin. A quick recap followed, while votes continued to be registered – this has to be the quickest voting round many of us have witnessed! Talk about keeping things short and sweet! With results being announced after seemingly endless banter and with one solitary envelope being opened, it made for pretty unexciting TV, with a complete lack of any suspense. Let's hope things improve production wise for the next semi final heat. The first three acts revealed were the public choice, and these spots went to Blitze, Grupa Pieneņu Vīns and Evija Sloka while the jury's choice for the final were Jānis Stībelis and D-Family